Hello my name is Neil; I'm a brewing consultant based in China, helping people around the world with their brewing projects. I help in a number of ways; from sourcing Chinese brewing equipment to recipe formulation.
I'm originally from the UK but, have brewed around the world in a number countries such as France, Hong Kong, Bermuda and Armenia. I've brewed on many systems of different size, automation and configuration, as well as having installed a number of brewhouse systems.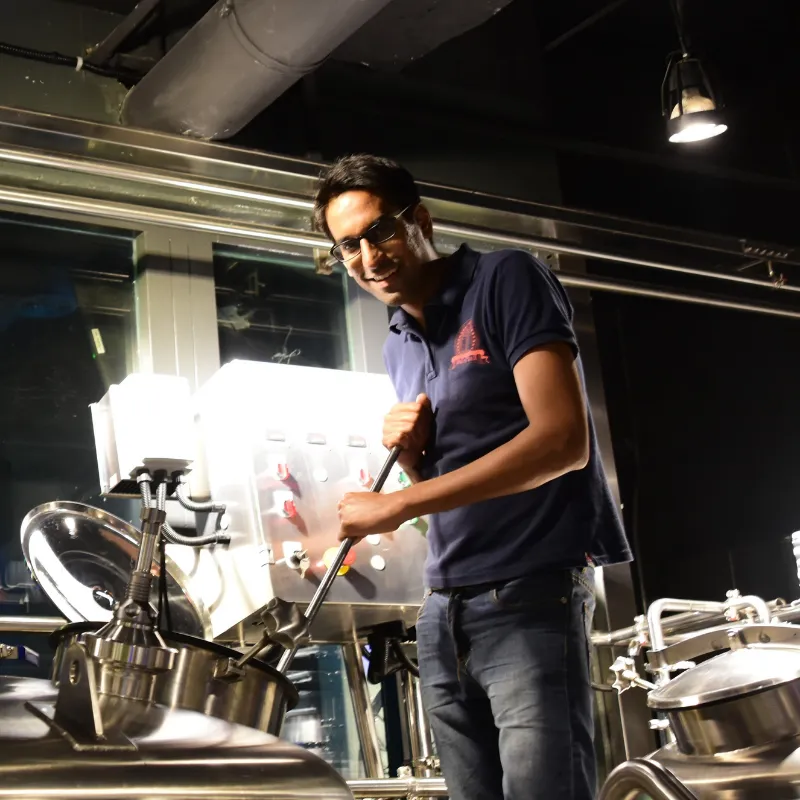 I first came to China in 2010 and since built up a large network of brewing industry contacts out here. I've also collaborated with several Chinese equipment manufactures on installs and other projects.
My experience plus the fact I'm based in China has put me in a unique position; able to help people sourcing Chinese brewing equipment for projects around the world.
How I Help People as A Brewing Consultant in China
As I write this; there are people I'm assisting, working with Chinese brewing equipment manufacturers from the UK, Australia, Slovenia, Canada and within China itself. Designing and planning brewhouses or other beverage related projects.
My recent appearance on The Build Me A Brewery Podcast, which you can listen to by clicking here bought lots of enquiries from Australia.
On the podcast, I shared information about the best way to plan a brewhouse installation. Many people found it helpful leading to some potential brewery owners reaching out to me.
The Process: Brewing Consultant in China
So how do I usually help people? Well, it's usually like this:
People Reach Out to Me
People either find my website, read my articles, posts on social media or through word of mouth. They then contact me about a brewing project.
Discuss the Project and Tidy It Up
I speak with people about the project, ask questions then use their replies to put an equipment list together to fit their needs.
Reach Out to Equipment Manufacturers
With the equipment list and knowing a client's budget, I'll reach out/introduce them to manufactures, best suited to their project.
Collaboration
We all work together to lock in the equipment list taking into account requirement, future growth and clients building needs. Get quotes and chat to several manufactures
Factory Visits (optional)
I can if the clients require it, visit a short list of manufacturers. I'll take pictures, video and do video call with the client so they can see the how the company operates. I can then write up a report and make recommendations.
Decision Time
After looking at proposals and speaking with individual manufactures. I will work with the client to make a final decision so they can order their equipment.
Liaise
Whilst the equipment is being fabricated, I'll be in contact with both the client and manufacturer. So, everyone is on the same page. Also, I can do a (optional) factory visit during fabrication if the client wishes, to check all is on track, and to identify obvious issues before it's too late.
Last Visit
When the equipment is finished most clients like me to do a factory visit to check the equipment before it's shipped. This usually involves a video call, sharing photos and video with all information being sent to the client for inspection/review.
Aftercare
After the equipment is shipped, I'll still be in contact with the client. There to help with issues and/or to continue to liaise with the manufacturer. Also, happy to be of assistance anyway I can (remotely) during installs, first brews and help deal with any issues which come up.
Why Work with You Neil?
I like to think my years of brewing experience and time living here, has given me a unique skillset to be a brewing consultant in China.
I've worked on brewhouse of all sizes, configuration and brewed beers of many styles for different international markets. I've designed brewhouses and streamlined brewing processes in my previous brewing roles.
As I've worked in many countries, I believe I'm culturally sensitive, to act as a good liaison for clients from all over the world with Chinese equipment manufacturers.
It's always good to have "someone on the ground" in China looking out for your concerns too.
Sounds Good, Can We Have A Quick Chat About My Project?
For sure we can, I'm happy to chat and there's no obligation to work with me. We can simply have a quick call, speak about your project and see if I might be able to help in anyway.
Or, if you'd like something more formal, I can offer a 30-minute free consultation. We can pre-plan what you'd like to discuss on the call. Whichever, method you prefer I'm flexible.
How Do I Contact You? Brewing Consultant in China
Well, you can email me at:
neil@asianbeernetwork.com
Or if you'd prefer to add me to your favorite social network. Then scan the QR code of your preferred app and add me there (just let me know who you are and how you found me).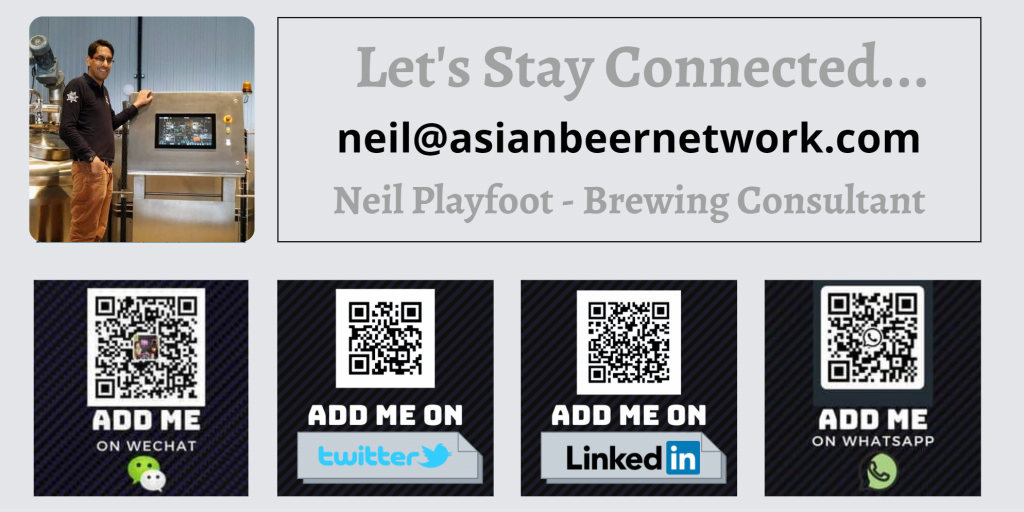 Thanks for taking the time to visit my site, I look forward to hearing about your proposed brewery project and in the meantime have a great day.
Some Testimonials From People I've Worked With…