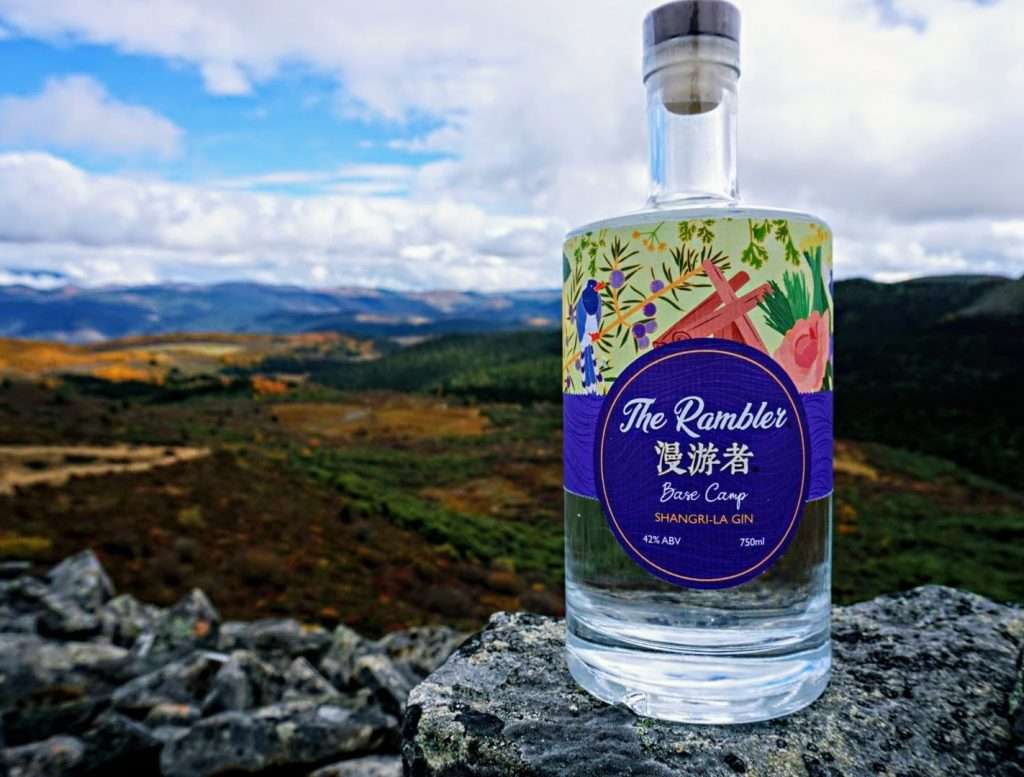 The Rambler is one of the newest craft spirits to hit the Chinese market and its gaining traction fast. The story of The Rambler interestingly though, starts in New Zealand with a man named Fraser.
Fraser Kennedy to give you his full name. Who was kind enough to spare some time to answer a few of my questions. So, I could share the story of how Shangri-La in Yunnan, China became home to one of China's most sought-after spirits.
For those who don't know of Shangri-la, it's an iconic city, set it in beautiful rugged landscape of Northwestern Yunnan. Shangri-la was described as "Eden in dream" by British novelist James Hilton in Lost Horizon in 1939.
It's a mix of Chinese Han culture with its Tibetan roots. It actually has another unofficial name in Tibetan "Gyalthang", which means royal plains. It's truly a magical place to call home, which luckily Fraser does.
Where Did It All Begin?
We know, where Fraser is now but where did it all begin? Fraser was born in Scotland but raised in Nelson, New Zealand. Later going to study at university in Christchurch (2009-2012). Whilst studying there, he began bar tending at Pomeroy's (a local craft beer pub), in his second year.
Pomeroy's was the number one spot craft beer spot in the city. So, all the brewers who came through stopped off for a pint or two. I'll let Fraser pick it up
"A local distributor would host monthly tap takeovers for breweries from all over NZ, and my boss was awesome enough to let me work all of them. I definitely caught the bug while rubbing shoulders with the beer elite of New Zealand in this way. "

Fraser Kennedy
Well, it seems Fraser did really catch the bug, because he went on to create Ad Lib Brewing with his good friend Hayden. Where they contract brewed on another brewery's equipment.
They were running the university's brewing club at the time and wanted a proper platform to launch beers to market. The idea behind Ad Lib was to brew beers at homebrew level and if successful launch them commercially.
It was Fraser first time in a commercial brewery. His friend Hayden had had some experience at Twisted Hop (before an earthquake demolished it). So, was able to lend some great practical experience to the team.
Ad Lib was a great learning curve for Fraser, but with studies, working in the pub and launching a brand, it was a lot to take on. It did show though to Fraser, his future lay in beer.
Then Came China
After graduating university, Fraser had plenty of offers for fulltime brewing positions around Christchurch. But not for the last time Fraser wanted to take a path less well-travelled. I'll let him take up the story…
"I'd a sense that I really could develop my career, and individual skill set, in a unique way, if I threw myself onto the forefront of a burgeoning industry outside of New Zealand's already well-established market.

Having already some whispers of a Chinese craft beer revolution, and already it seemed there was one kiwi involved in leading the charge. I knew if I could get to Shanghai, I would figure the rest out."

Fraser Kennedy
Unfortunately, on landing in China, it seemed none of the local craft breweries were hiring. So, Fraser did what most "lowai" do when coming to China, get himself an English teaching gig. He sought a job as close to Shanghai as possible. The idea being to use it as base to network himself into the Shanghai beer scene.
He ended up in Yangzhou, a small city roughly 300km from Shanghai (close in Chinese terms). On his first trip down to Shanghai he met Leon Mickelson. Leon is a legend in the Chinese craft beer scene, whose influence has helped a fair few brewer over the years. Including helping me in my career too!
Dr. Beer
After 5 months in Yangzhou with Leon's introduction, Fraser scored himself a position of brewer with Dr. Beer in Shanghai. Fraser still looks back fondly of his time in Yangzhou. As it was a great introduction to China allowing him to "picking up some experiences that I would never have had otherwise".
Frasers, time at Dr Beer wasn't always smooth, but provided a great leaning curve. A lot of the equipment wasn't up to scratch, especially the cooling for the FV's. If the temperature of a fermentation gets too high, it leads to bad beer.
It took ages to find the right engineer to fix the problem. So, in the meantime Fraser taught himself the basics of thermodynamics, electric circuitry and mechanical systems. To fashion a stop-gap solution. He realized he wasn't in New Zealand anymore, where you'd have access to a proper tradesman to fix any problem.
When the Big Guys Come Calling
Fraser saw his next role being in the US for one of the "hero breweries" like Dogfish, Stone or Sierra Nevada. He was scrolling through Probrewer Classifieds (online brewing job forum) everyday searching for jobs in the US.
He believed the natural next step from his basic learning so far, was to go and work in the most developed craft beer scene in the world. The issue was he was from New Zealand and hiring a foreign brewer and dealing with visas wasn't really appealing to HR teams. Especially, when experienced local US brewers were also applying for these jobs as well.
However, Goose Island (owned by AB InBev), where recruiting in China. Fraser leapt at the opportunity to work with such a prestigious name and the opportunities it would afford him.
From jerry-rigging glycol systems at Dr. Beer, Fraser was now applying huge budgets, sending RFQ's (request for quotation) to top Chinese suppliers for brewing equipment and qualifying their proposals. Then his real education began…
I spent 5 weeks in Chicago working with the Goose Island team, working under legends such as Tim Faith, Quinn Feuchl, and Jarred Jankowski. Then I spent a week over in Oregon at 10 barrel brewing co, learning how to kettle sour and brew gnarly IPAs with the team there (also it was March, so I snowboarded for half the week).

Post US, it was back to work, putting all this best practice into play and tailoring the systems to run a smooth operation at the brewpub in Shanghai. The ongoing training and support I received, and the foundation of working within such a well-developed system of quality and safety control has set me up for today".

Fraser Kennedy
Soul Searching
Fraser spent three and half years at AB InBev, he learnt a lot in that time and took his IBD diploma. It was during this time he met his wife now Mia; they both felt the time was right to go on their own.
They saw their future one of two ways…
Slowly sinking into the Shanghai spiral, working 9-9-6. Working from 9am to 9pm, 6 days a week, gradually moving their way through the ranks. As Fraser put it "debasing our souls at each turn".
No, instead newly married Fraser and Mia set off on a one-way trip to the most remote, beautiful rugged place they could find to set up a distillery.
Fraser's first foray into distilling was actually during his time working at Dr. Beer. The boss was "always spinning crazy ideas" and was convinced mojitos would blow-up in China. He had an idea to set up a small distillery/bar to make rum.
The idea never came to fruition, but Fraser spent around 4 months building the blueprint for the distilling operation. Planting the idea of distilling for a time later in his life. As mentioned before Fraser studied for his IDB diploma which covers distilling theory too.
He's has since taught himself as much as he can about distilling. With goal of taking his distilling diploma to qualify his knowledge at a later date.
Fraser Feels Like Some Thanks Are in Order
I'm lucky to be able to call Fraser my friend. He's always be a humble guy and appreciative of the people who've helped him over the years. He wants to give some special mentions before we move on to the distilling and Rambler.
Leon Mickelson and Josh Staines – He worked with them both at AB InBev, they as he puts it "set me on the path and corrected all those bad habits".
Eric, Matt Jimenez, Tom & Michael Jordan (One of the Godfathers of Chinese craft beer) – "for being the Shanghai brew crew, damn we had some good times".
And of course, Mia – "for believing in my crazy ideas and in me".
Back to Shangri-La
Shangri-la sits an altitude of 3,300 meters in the foothills of the Tibetan Alps. It's a small, mostly rural ethnic Tibetan population living in a pretty brutal climate.
The landscape takes your breath away, it's hemmed in by mountains on all sides. As Fraser puts it…
"Easy access to fresh water and clear air all year round (I challenge you to find true blue sky anywhere else in China in the middle of winter), with an abundance of local raw materials on our doorstep."

Fraser Kennedy
In Shanghai Mia and Fraser would have to travel 3 hours to reach some decent nature, with access to good hiking and greenery. In Shangri-La it's all on their door step. Still people always ask…why Shangri-La?
They knew they'd need to leave Shanghai if they wanted to set up a distillery. As it would have been impossible in Shanghai's city limits. They decided to move to the most stunning place they could find, building this beauty into their product and branding.
They already had a connection in Shangri-La with their friend Sonny, who owns a brewery there. He was the main catalyst for the move to Shangri-La, as he could help with local connections.
Actually, Sonny has an interesting background himself. He's from Switzerland, but his father is from Shangri-La, like generations of them. His fathers' brother was the top monk at the monastery here. Anyway, the scene was set.
The Transition
I asked Fraser, how the local government and people reacted to his idea of setting up a distillery there. The answer I got was, they're all on board. The area isn't well-known for its manufacturing industry, just its primary industries (Matsutake Mushrooms, Highland Barley, and to some extent Dairy and Honey), and tourism.
The local government has been developing its industrial infrastructure for some years and trying to attract outside investment quite actively. Right now, Fraser is pretty small scale, but his hope to become the biggest player in Shangri-La over time.
Then feed that back into the local community through employment opportunities, support of feeder industries like local barley farmers, and of course taxes. In return the government makes life easier for business than in other areas of China.
Craft Spirits Business in China
Craft spirits market has evolved differently to the craft beer scene. The foundation of craft spirits really lies in the boom of the bar scene in China. In particular high end cocktail bars and speakeasys.
Although craft beer is still incredibly relevant, the younger generations of China are now diversifying their drinking habits greatly. Allowing for this new segment to open up.
It's a counter culture of sorts which goes hand in hand with the rise of Chinese hip hop & rap, contemporary arts and underground scenes greatly influenced by western culture.
The First Craft Beer Brands
The first craft spirit brands in China were a response to the need for homegrown liquids to be implemented into this scene. Launching back in around 2016, these brands, grown by entrepreneurs in Shanghai and Beijing sought to fuse their knowledge of the bar industry with unique flavors creating products representing the demographics of their local scene.
These brands were quick to market via OEM production (distilled on 3rd party equipment). Its only recently new distilleries have been built to produce their own brands of craft spirit. Now, there are around 10 gin brands being produced in Mainland China. With a few more in the Hong Kong and Taiwan territories.
Furthermore, in the future we'll start to see more and more independent Chinese Whisky brands launched as their barrels reach maturity. Fraser is cautious on this last one however. Knowing consumers will be quick to lap up new liquid from the middle kingdom.
He can see these producers hoping to emulate the current status and success of Japanese Whisky brands. However, he apprehensive as to whether the growth will be done in the right way. As he says…
"I'd be really disappointed to see sub-par liquids flooding the market, and trashing the reputation of Chinese whisky overnight (similar to the craft beer crash of the 90's in the US).

There will be, I'm sure lots more innovation and great brands to come. I'm really excited about the grassroots distilleries popping up around the country, all with great ambitions to launch a wide variety of liquids and flavors into the market"

Fraser Kennedy
Why Gin?
When Fraser first started with Shangri-la Youyon Distilling, he played around with a few different spirits and processes. He looked to make his own wash using from barley, wheat and Qingke (a local Tibetan barley) to create both neutral spirits and more congener rich liquids with a potential for aging.
However, as with most start-up businesses, budget constrictions kicked in; Fraser and Mia had to make a lean and direct plan for how to move forward. Based on their equipment volume (200L), the efficiencies of scale were not on their side.
Fraser, used his background in brewing to take a critical look the still operations and highlighted where processes could be streamlined. He found a way to increase his volume output using the original set up.
Right now, gin is in its heyday. The current sales volumes for the category are evidence homegrown gin brands are incredibly popular. Plus, looking likely to stay this way for a while.
The Rambler
The Rambler is the brand name for Shangri-La Youyun Distilling family of gins. There are four members of the family right now; Base Camp, Rare Specimen, Expedition Strength and Sunkissed Strawberry Gin.
The Rambler is named for George Forrest, early 20th Century explorer and botanist. As member of the royal botanical society, George travelled to Dali (North Yunnan) in 1904 for the first of seven eventual expeditions.
Over the course of the next 28 years, George continued his expeditions, mostly in the Tibetan border area (modern day Shangri-La). During his expeditions, George catalogued over 31,000 plants. As a pioneer, explorer and voracious botanist to his core, George is the inspiration for the Rambler.
The process wasn't always smooth in the naming process, as the trademark office kept returning them to the drawing board. It was actually Fraser's dad who had the breakthrough coming up with the name "The Rambler".
They had similar names like The Explorer and The Wayfarer in mind, but the trademark office and "dad's eureka moment" which settled it. As Fraser says "It ties in really nicely, as the verb To Ramble, is actually Scottish in origin, meaning to go on a walk for one's leisure. Both George Forrest and myself were born in Scotland, so the name stuck!".
How is the Rambler Family Is Made?
The basics of gin, is it's a juniper flavored spirit, made from a neutral ethanol base. The common practice is to soak the juniper berries in ethanol overnight before adding additional raw aromatic organic materials (botanicals) immediately prior to distillation.
These days the standard still design is either a hybrid pot/column type or a straight pot still. The older designs used by historic distilleries such as Bombay or Hendricks are usually based around a Carterhead still (where the botanicals are infused via vapor instead of being boiled with the ethanol).
Hybrid stills commonly have the addition of a side mounted gin basket, accessed by three-way valves, which can allow for the gentle vapor infusion of select botanicals (normally citrus peel), at a certain point during the distillation process.
To create balance in the finished spirit, gin distillers can employ standard practices of known ratios, measured in grams/L of base spirit, to calculate their botanical additions. However, with the explosion of craft gins, and the use of many uncommon and unique botanicals, a lot of these distillers are working through large volumes of R&D batching to experiment, and find balance through trial and error.
Botanicals
Fraser uses a wide variety of botanicals in his gins, ranging from southern Yunnan fruits and spices to central region flowers and herbs. The key characteristics are based on Buddha's hand (Base Camp), Anise (Rare Specimen), and Mango (Expedition Strength).
This is where the choice of Yunnan for the distillery comes to the fore, with province being a very unique region in China.
It sits right on the border of South East Asia, and extends from low river deltas to high mountain plateaus. The climate of the low lands is very much seasonal monsoon, with the central regions sitting at around 2000m altitude.
Maintaining a spring like coolness year-round, allowing for vast wealth of fruit and vegetable cultivation. The richness of botanical life here is what first attracted early botanists, such as George Forrest to the area, plus Mia later Fraser.
Where Are Fraser and Mia Now?
Fraser say's it's been a fantastic 8 months since they launched to market, although it's' been a slog at times. The biggest hurdles they've come up against, is building up reputation with bar owners and consumers that The Rambler family represent quality and flavor. Whilst at the same time telling their story and winning fans with providence and product.
Mia and Fraser are in it for the long haul, knowing it'll take time. They've invested a lot of budget as well as time engaging customers directly with gin tastings, masterclasses, guess shifts in bars and pop-up stall events.
As Fraser puts it…
"As a small startup brand, it's essential to get that face time with your consumers – hearing their feedback, sharing your stories, getting to know them all as people. We now have some really loyal fans – you know who you are! And without their support from such and early point, the road would have been a lot harder."

Fraser Kennedy
This dedication to the brand and putting boots on the ground has led to some great feedback for their gins. Culminating in winning two medals at the World Gin Awards. Those successes have given them a lot momentum already this year.
What's Next?
In 2021 will see the official launch of Expedition Strength and Sunkissed Strawberry as well as new packaging design. The focus will be on steady events throughout the year, kicking things off with a two-week tour of Guangdong in April.
The plan is to ramp up social media interaction covering their distilling process and all-round life in the wilds of Shangri-la. If you haven't met their two Golden Retrievers called Baxter and Bella…you're in for a treat. There are also a few top-secret projects in the works, which will be revealed soon as well.
Fraser and Mia, love their life in Yunnan, they adore their quality of life. The local government is improving local rail and road links with the nearest major city Lijiang (a popular Chinese tourist spot).
This will help to open up the region to more tourism and commerce, creating an even better future for Shangri-La. Still, getting to where they are now (and where we plan to be), is fraught with challenges.
The biggest of which is money. Fraser's advice for anyone looking to get set up in a capital intense business like a distillery or brewery is…
"No matter what your CAPEX (Capital expenditures) goals, OPEX (operational expenditure) costs or other business expenses, it can all be managed with tight control on cash flow. If you can keep your budgets tight, and more importantly realistic, you can survive.

In China over 90% of all new businesses don't survive their first two years. We're coming up to our two-year mark later this year, and although things have been slow, and we started from the smallest point possible, it will be possible for us to not only survive, but thrive."

Fraser Kennedy
The Round-Up
Fraser and Mia, have worked hard to establish a presence in the Chinese craft spirit's market. Their hard work has seen real achievement with the two Word Gin awards. They're extremely positive for 2021 and beyond.
They know the hard work isn't over, but in these two years the path has become clearer and together with The Rambler they'll look to give back to the local community which has supported them to this point.
The final words from Fraser…
"Keep supporting local! If the quality of your local product isn't great – hopefully a better one will come along soon, that's the natural selection of the business world right!"

Fraser Kennedy