Today we're going to look at the non-alcoholic beer in China. It came up recently in a discussion among expat brewers in China on WeChat Group.
Many of these expats are from the US, Europe, Australia and New Zealand; who've seen the rise in popularity of non-alcoholic beers in their homeland. The discussion was whether that trend would be replicated in China.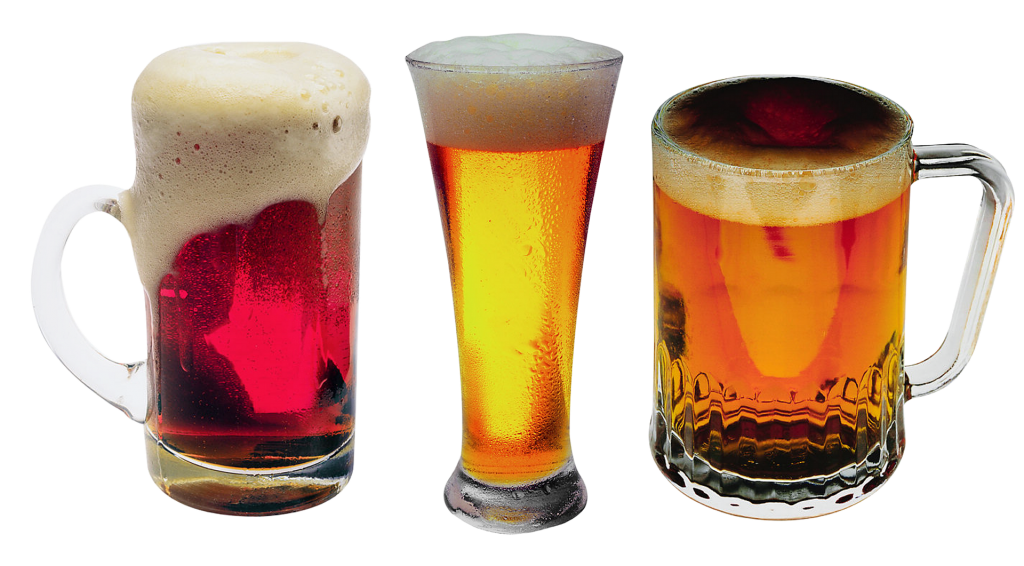 Did it make sense to now start looking at brewing low or non-alcoholic beers in China? Guiness had just jumped on the bandwagon with their 0% offering Guiness 0.0, which is also low in calories at 16 per 100ml.
This had got many brewers thinking, is it time to brew non-alcoholic beers?
I decided to take a look for myself. Being a brewing consultant based in China, would I recommend brewers brew non-alcoholic beer in China? There was only way to find out…research.
Please see below my initial findings and thoughts which I wanted to share.
A Little Backstory…
Sales of non or low alcoholic beer is the fastest growing segment in the beer industry worldwide. The rise in sales in the last 5 years stands at 3.9%. In that time sales in regular beer; those between 4-6% ABV, have seen sales decline.
The consumers of these products are millennials and Gen Z'ers who approach recreational drinking differently to the generations before them.
These people are looking to drink less alcohol plus be more health conscious compared to older generation who drank in the teens and early 20's.
Many of these offerings containing less alcohol, are also lower in calories than traditional beer thus, increasing their popularity further.
Furthermore, with the prevalence of social media and everyone having a camera at their fingertips, younger generations like to be in more control.
The History of Non-Alcoholic beer In China
What I found out was surprising. There's a big push into non-alcoholic or low alcohol beers in China. However, let's clarify one thing before we go ahead.
Beer at 1.2% ABV or below is classed as "low alcohol" (although in some countries, the figure is as low as 0.5%). So, anyway let's continue…
Qingdao Beer were one of the first major breweries in China to launch non-alcoholic beer with "Qingdao 0.00". They claim it's no different in taste and appearance to traditional Qingdao.
Qingdao 0.00 according to the press release is made from Czech hops and Australian Barley. There is a heavy aroma of barley and its foam is white.
In 2012, when Qingdao 0.00 was launched its price point was 8-10 RMB. Which was quite high for the domestic market back then.
In China, the market for low and non-alcoholic beer stood at USD 900 million in 2017, due in part to the rapid and improved adoption of alcohol-free products.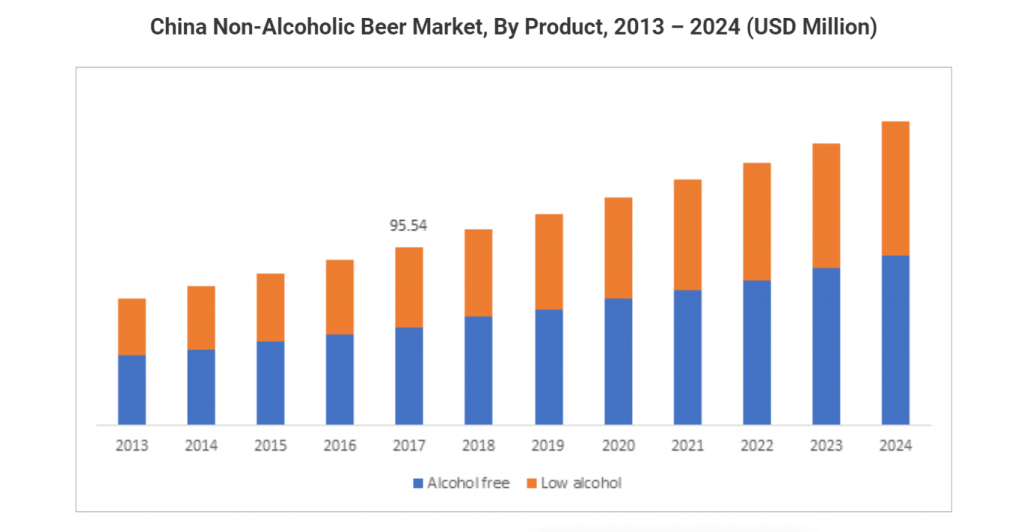 Two other factors for the growth were more stringent drink driving measure, plus the major beer manufactures jumping on Qingdao's bandwagon, like Snow.
The fact large Chinese domestic beer manufactures were creating non-alcoholic beers led to their consumer base drinking them.
So, with the market growing as demand increasing, should Chinese craft brewers start to offer non or low alcoholic beers?
Non-Alcoholic Beer in China – Should Craft Brewers Invest?
Now, it may seem like a no-brainer for craft breweries to start producing non-alcoholic beers. However, it might not be that simple.
Note, the non-alcoholic beer trend right now is being solely driven by the big and trusted players.
If you look at the table above the big players account for 70% of all non-alcoholic beers tried. The "other" 30%, I don't have too much information on it.
Furthermore, the major players are heavily investing in the non-alcoholic beer sector, trying to gain market share. AB InBev aim to have 20% of all their beer sales come from non-alcoholic brews by 2025.
Their target audience is millennials (that we mentioned earlier) and middle-class consumers. Meanwhile Heineken invested US $50 million to advertise the non-alcoholic brands worldwide last year. This trend to invest is similar with most of the big players.
Did you know 25% of low/non-alcoholic beers launched in 2016 worldwide, were in China? That's quite a surprising figure and it's the big player such as AB InBev launching these products.
However, that doesn't mean if small craft breweries started to brew non-alcoholic beers people would drink them. I suggest, what they want from a big player and what they want from their local craft brewery maybe two different things.
Please note, this isn't back up by facts but, all the sources I read about non-alcoholic beer in China suggests the big boys like AB InBev and Heineken are the leaders.
However, there is that other 30%. Thirty percent of USD 900 million (and growing annually) is still a big chunk of change.
Non-Alcoholic Craft Brewers Around the World
There are dedicated non-alcoholic craft breweries around the world with Nirvana Brewing in the UK and Surreal Brewing Company in the US good examples. They're both dedicated to non-alcoholic brews and are doing well.
I wouldn't suggest a brewery in China dedicated their brewery to making non-alcoholic beers. However, trial brews of non-alcoholic beers which they market to their customer base for feedback could be interesting.
Master Gao in Nanjing made a non-alcoholic NEIPA in late 2019 which people remember. So, there are brewers in China sticking their feet in and testing the waters.
If you have a group of patrons in your craft beer brewery in China, chances are some of them aren't drinking. It could be they go for a soft drink option.
If there was a non-alcoholic beer option would the non-drinker choose it?
Do you think these people feel more included if they were drinking a beverage which looked like what other people were imbibing, but not getting drunk?
My experience brewing in China would suggest yes, it's worth experimenting. Wheat beer in most parts of China, is the craft beer of choice. If a craft brewery made a decent non-alcoholic wheat beer it could be popular.
The non-alcoholic brew should be designed, to still be considered "craft", I believe. Recreating a version of Asahi Dry Zero (the most tried non-alcoholic beer in China) probably wouldn't cut it.
Non-Alcoholic Beer in China – A Conclusion
The growth in the non-alcoholic beer market is going to continue to grow with the big beer players investing in it heavily in China. With consumers beer preferences changing, as people become more health conscious and not wanting to get too drunk, driving this growth.
It's up to the Chinese craft beer market to look at the trends and decide how best to approach it from their own view point.
The craft beer market in China is still small but as thirsts change, small producers need to understand and adapt to changing conditions.
The big boys will tie up the overwhelming majority of the non-alcoholic beer sector as they do for the regular beer market. However, there is room for the small guy offering something unique but still craft.
The craft beer market is ever-evolving in China, with Chinese craft brewers learning and producing new styles of beer following worldwide trends but often innovating on them too.
Is it time for Chinese craft brewers to innovate again; offering craft non-alcoholic choices much different from the bog boys? I like to think yes, and hope to see a trend in non-alcoholic brews take off in the land I call home.
Thanks for reading my article.
If you have any thoughts on the subject, I would love to hear your thoughts below in the comments section.
Have a good day
Cheers
Have a good day
Cheers
Neil
Sources for the article: