We are going to look at the 3 stages of beer fermentation today. It's an article I've wanted to write for a while now. The typical 48 hours of anxiousness, waiting for my lager to start fermenting when using dry yeast this week, reminded me to write this article.
The wait is much longer than for ales, which usually start fermenting in less than 24 hours. I know my lager will ferment but the wait, gets me every time.
Beer fermentation is the heart of the brewing process. As I've said many times it's "where the magic happens". Fermentation is divided into 3 recognized phases; lag, active and stationary phase.
During fermentation wort sugars are consumed, with new yeast cells forming with ethanol and CO2 produced as well, along with flavor compounds. As brewers we control various elements of the fermentation, to produce the finished beer as planned. The key elements are:
Temperature

Oxygen levels

Pitch rate

Yeast selection
They all affect the aroma and flavor compounds produced during fermentation. The aim of this article "Stages of Beer Fermentation", is to look at how yeasts ferments beer. With the aim of giving you, the tools you need to create the right flavor compounds in your next brew.
Stages of Beer Fermentation – The Lag Phase
Once the yeast has been pitched, it enters what we call the lag phase. Despite the apparent lack of any noticeable fermentation, there's stuff happening. The yeast is absorbing the oxygen in the wort (producing sterols), which is crucial to reproduction and healthy growth. So, what exactly is yeast?
Well, I'll let me quote Wikipedia…
"Yeasts are eukaryotic, single-celled microorganisms classified as members of the fungus kingdom. The first yeast originated hundreds of millions of years ago, and at least 1,500 species are currently recognized. "

Yeast – Wikipedia
Yeast is a living organism, so needs oxygen. Its why wort aeration is important in commercial brewing. Yeast needs oxygen to grow plus produce the vital cell wall constituents. As well as absorbing oxygen the yeast is taking up the needed, vitamins and minerals to grow.
In modern brewing the vitamins required for yeast growth, can be found in good base malts. However, if your recipe is high in adjuncts, you may need to add some yeast nutrients during the boil to help the yeast work.
An old brewer's trick, is to add some inactive yeast from the cone of a beer recently on chill during to the last 10 minutes of the boil. This will provide the pitched yeast the minerals and vitamins needed for a healthy fermentation if you've run out of nutrients.
Fermentation Temperatures
Now, seems a good a time to talk about fermentation temperatures. The style of beer you choose to brew and therefore yeast used, will determine the temperature of the fermentation.
For the purpose of easier explanation, I'd split beer types into four categories. They are outliers and other ways to ferment beer, outside the definitions below. Brewing is ever evolving and it's hard to cover it all.
I always recommend MTF (Milk the Funk) if you want to learn more about non-traditional brewing techniques.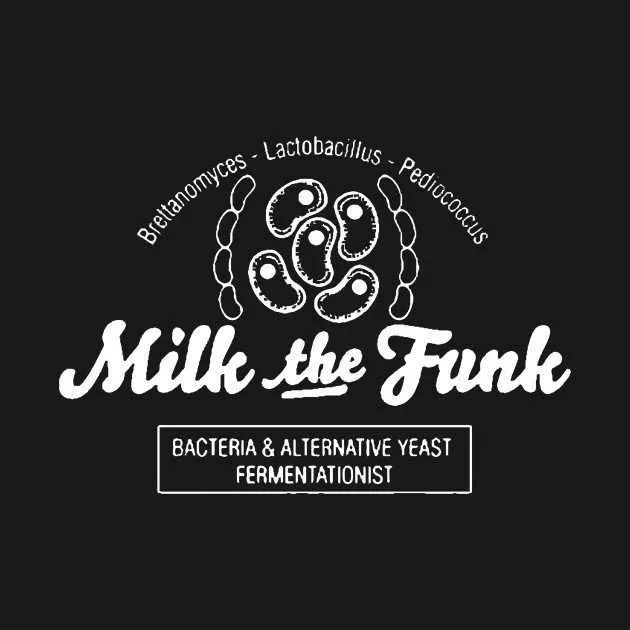 Anyway, I digress here are the four categories I'd list:
1. Ales
In general, they are top fermenting yeasts. Meaning the flocculating yeast, rises to the top of the fermentation. Where it can be "skimmed" from the surface and be re-pitched into another batch. Ale yeasts fermentations usually take place at 62-75 °F (17-24 °C).
2. Lagers
Lagers are generally bottom fermenting yeasts. The yeast tends to settle to the bottom of the tank after fermentation has finished. They evolved over time in Germany, where people started brewing in cooler caves. Lager fermentations typically take place at 46-58 °F (8-14 °C).
However, lager fermentation can be started warmer ~60 °F/15.5 °C, when the active phase starts the temperature can be lowered.
Wheat and Belgian Beers
These beers are mostly ales, for example, Hefeweizen and Wit yeasts are ale yeasts. Some styles such as saison (developed in Southern Belgium), can be fermented at a higher temperature. Some believe saison yeasts developed from wine yeasts. These fermentations can be anywhere from 62°F (17°C) to 85°F (29°F).
Kveik
Then we have Kveik yeasts which can ferment at much higher temps. Please click the link to learn more about them at MTF. They can have a number of fermentation profiles but the typical range for fermentation is 30-40°C (86-104°F).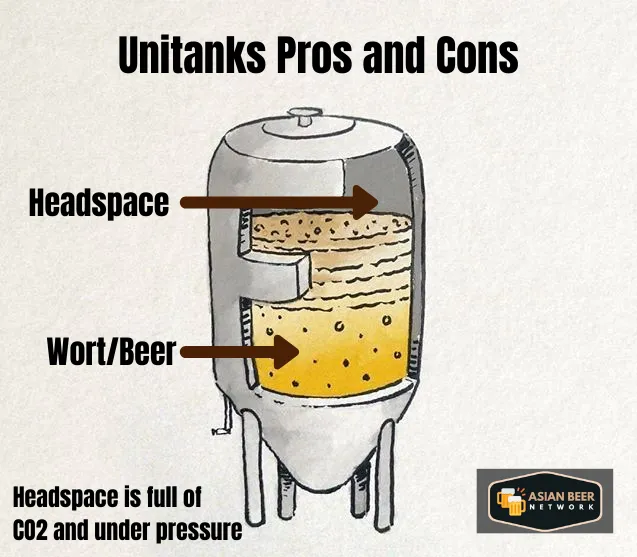 Back to the Lag Phase
The fact you don't see any activity during the lag phase is a good thing, the yeast is becoming acclimated to the environment and building the necessary growth for a healthy fermentation.
Pitch rates are key, but that's a whole other subject, you can read more about pitch rates here. What I will add here though is; please don't over pitch.
Yes, you'll decrease the lag phase BUT each individual yeast cell will not be as healthy at the end of fermentation, and over time, impact fermentation with each re-pitch.
Stages of Beer Fermentation – The Active Phase
Depending on beer style, you'll start to see visual activity between 24 and 48 hours after pitching. The yeast is coming out of lag phase and into its anaerobic phase. Please note, with Kveik yeast, the lag phase can be as little as 30 minutes.
The yeast cell count increases rapidly during the active phase. The yeast is starting to consume the sugar made on the brew day. CO2 is produced and a layer of foam can be seen.
This foam layer is the called the krausen. We are now in the logarithmic phase of yeast growth.
As the cell count increases, ethanol and flavor compounds are produced.  You can literally smell the fermentation at this point. If using a neutral yeast say, Fermentis US-05, it might smell a little like olive oil.
Spunding Beer
Once the fermentation has dropped a few points (2 Plato or 0.07 SG) you can begin to spund most styles of beer. If the beer isn't being spunded (for example, you plan to dry hop the beer), then you'll see lots of gas being produced and escaping from the fermentation vessels (FV).
Please click here to see our in-depth article on how to spund beer.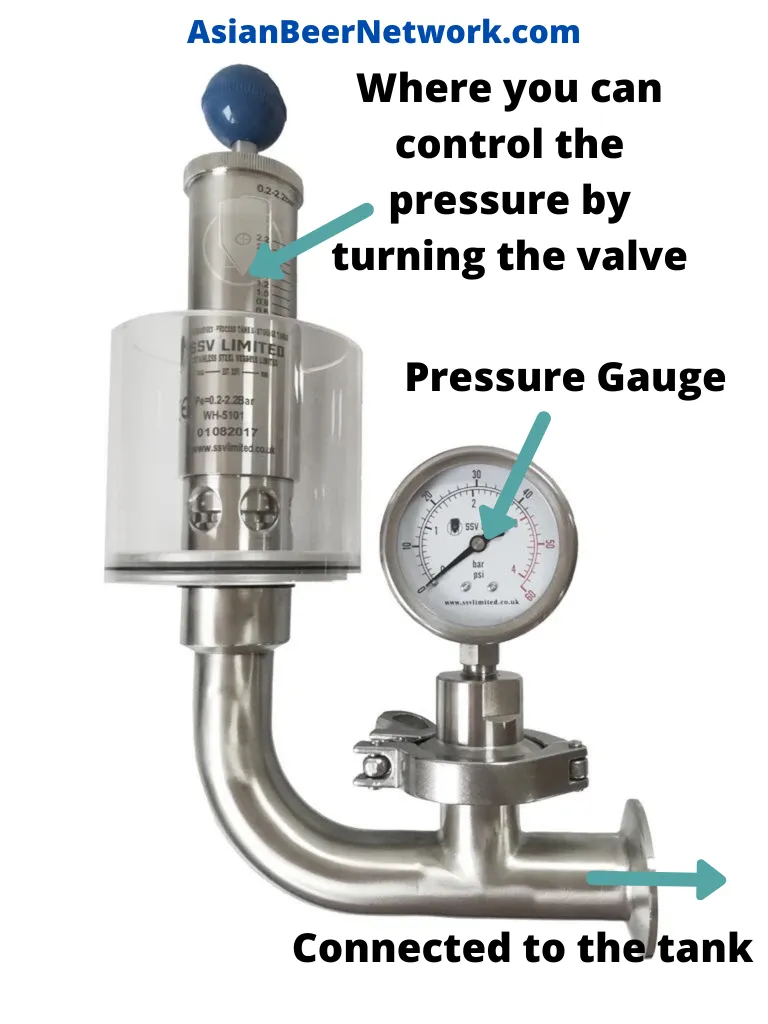 I always like to have a hose coming off my CO2 outlet if I don't spund, going into some 1% PAA (Peracetic acid). I like to have a closed system when I ferment beer. Also, it makes it easy to see how vigorous the fermentation is. As you will see bubbles in the 1% sanitizer from the CO2 escaping.
Activity during this phase is temperature dependent, the higher the temp the more active it'll be. The yeast consumes sugars in a certain pattern.
The simple sugars are consumed with glucose first, followed by fructose and sucrose and shuttled into metabolism. The glucose content in a typical beer wort is around 14% of all the sugars.
Maltose – The Centerpiece Sugar
The main sugar and the heart of brewing is maltose (to me anyway), being an important flavor component. Maltose makes up 59% of wort sugars in a typical brew. Maltose is used by yeast to give beer many of the characteristics a brewer planned in recipe development.
In yeast DNA, there are one to five genes which "turn on" in the response to maltose, leading to fermentation by brewer's yeast. Maltose enters the yeast cell through a special uptake mechanism and hydrolyzed into glucose units by maltase enzymes. As glucose, it can then enter the normal metabolism cycle.
Maltotriose, is the last sugar to be fermented. It is a tricky customer; some brewer's yeasts have a hard time fermenting these sugars. You usually find the more flocculant the strain, the less it tends to ferment maltotriose. A yeast's attenuation range, mostly comes from its inherent ability to ferment maltotriose.
When the fermentation is at peak activity, the beer is said to be at "high krausen". There foam on top of the wort usually turns from yellow to brown. You'll also see brown spots in the krausen, from oxidized hop resins.
The active phase usually lasts from 4 to 8 days depending on:
Beer style

Yeast used

Pitch rate

Temperature of the fermentation
Stages of Beer Fermentation – The Stationary Phase
As the beers enter the stationary phase, yeast growth slows down. Please note, the majority of flavor and aroma compounds have already been produced. These include fusel alcohol, esters and sulfur compounds. At the beginning of the stationary phase, the beer is still deemed "green", as the flavors haven't yet balanced out.
During the stationary phase the beer is being conditioned. Yeast reabsorbs diacetyl made during fermentation. Hydrogen sulfide escapes from the fermenter as gas. The krausen falls and the yeast begins to settle out or flocculate.
During this phase where little visual activity maybe seen, you must check the level of attenuation by measuring the gravity of the wort. Once the gravity readings stabilize at the same degree for a few days, you know fermentation is complete.
Please note: Some yeasts strains flocculate before final gravity is reached. If this happens, you'll need to "rouse" the yeast back into solution. To do this give the beer a quick blast of CO2 through the bottom of the tank outlet, never use oxygen.
When Beer Reaches Terminal Gravity
Once the beer is at terminal gravity, you need to check diacetyl levels are in accepted parameters. If you've a lab; you can check the diacetyl levels, setting the beer to chill, once VDK levels are within acceptable parameters.
If you don't have a lab, you need to wait usually between 2 to 5 days before chilling the beer to lower VDK levels. Here is a basic test you can do, if you don't have a lab.
Fermentation Temperatures During Active Phase
Ales/Wheat and Belgian Beers – Keep the temperature the same as during lag phase (although higher temperatures will increase diacetyl reduction rates)
Lagers – With some lager strains, brewers will increase the temperature of the fermentation after 50 to 60% attenuation. They allow the beer to "free rise" maybe as high as 20°C (68°F). The increased temperature will allow the beer to "clear itself up" leading to reduced diacetyl rates.
Once the beer is within acceptable VDK levels you can begin to chill the wort. I like to step cool my beers…so:
1. Chill to 10°C (50°F) first and keep at this temperature for 48 hours
2. Chill to 5°C (41°F) and keep at this temperature for 24 hours
3. Chill to 0 to 3°C (32°F), which is the temperature kept for maturation.
For some more lager brewing tips please click here.
I like to think, "step chilling" helps the beer clear more quickly. It's anecdotal but, many brewers follow the same practice and will tell you the same.
Please note: With wheat beers, I usually crash the beer straight to 0 – 3°C (32 to 37.4°F), as I'm not looking to clear the beer.
When the Beer Maturing
Once the beer is at 0 to 3°C, the yeast will continue to flocculate and settle. At the same time the beer is "maturing" due to various undesirable flavor compounds being reduced. Ales don't benefit from long conditioning time like lager beers.
In ales, desirable flavours and aromas might be reduced with age. For example, in an IPA where good hop aromas are desirable, aging will reduce the hop notes. Furthermore, any oxygen ingress at this stage be damaging to overall beer quality and reduce shelf life.
So, to sum up during this "conditioning phase" we see:
Most of the yeast fall out of the beer (which can be dumped) making the beer clearer

Haze forming proteins are formed and precipitate

The beer becoming "smoother" as harsh flavors mellow out or reduced

There's a reduction in sulfur compounds, diacetyl and acetaldehyde

Overall flavor stabilization
During the conditioning phase lagers can be moved to another tank (optional), again be careful of oxygen ingress. These tanks are horizontal and helps the beer mature more easily. To learn more, please my read article on the different types of cellar tank. Where discuss the pros and cons of each style of vessel.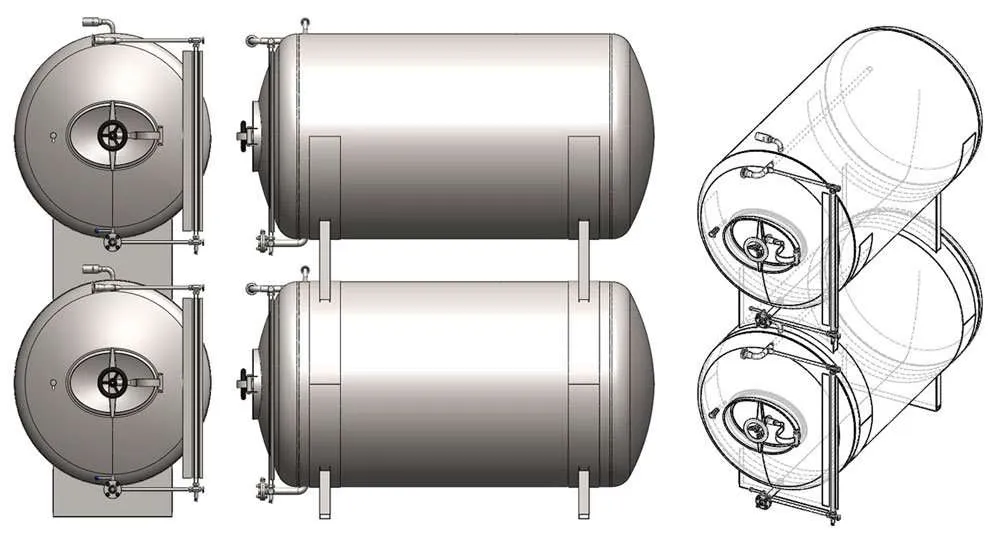 Stages of Beer Fermentation – Conclusions
There we have it, the stages of beer fermentation. It's truly a fascinating subject. Understanding the processes taking place during fermentation makes for better brewing. You never master brewing; I've been making beer for over 25 years now; I'm still learning all the time.
Brewing is a fascinating subject with new techniques and processes being created or evolving over time. If you have any questions or feedback after reading this article, then please feel free to email me or comment below.
I also work as a brewing consultant, helping people improve the brewing processes or with recipe development. I also help with:
Sourcing brewing equipment

Helping people looking to upgrade their system

Staff training

Problem solve recurring issues
And a whole lot more, If you want to have a chat about a project or brewing issue then please email me at:
Or scan the QR code of your preferred network and me directly from there.
Thanks for reading, have a great day and happy brewing
Cheers
Neil