Today's article is titled "hop cannon issues". This article is a response to my first article on hop cannons called "hop cannons for dry-hopping".
I got some feedback on LinkedIn, with a number of follow-up questions from a connection called Victor. He had some valid questions. With his opening lines being:
I have not worked on a hop cannon but by looking at some pictures it looks and works like a DE filter on which I have worked all my brewing days.

Only the DE is absent here. I have some questions based similarly like DE operation so I hope you can enlighten me:

Victor (Brew-Master at Beer Town)
I thought I'd answer them as an article, as Victor's questions maybe similar to other peoples. So, here we go…
Hello Victor,
A hop cannon is different to a DE filter. It does have a candle like some DE filters. However, the candle is used to stop hop pellets from going into the beer tank (usually fermentation vessel) from the hop cannon.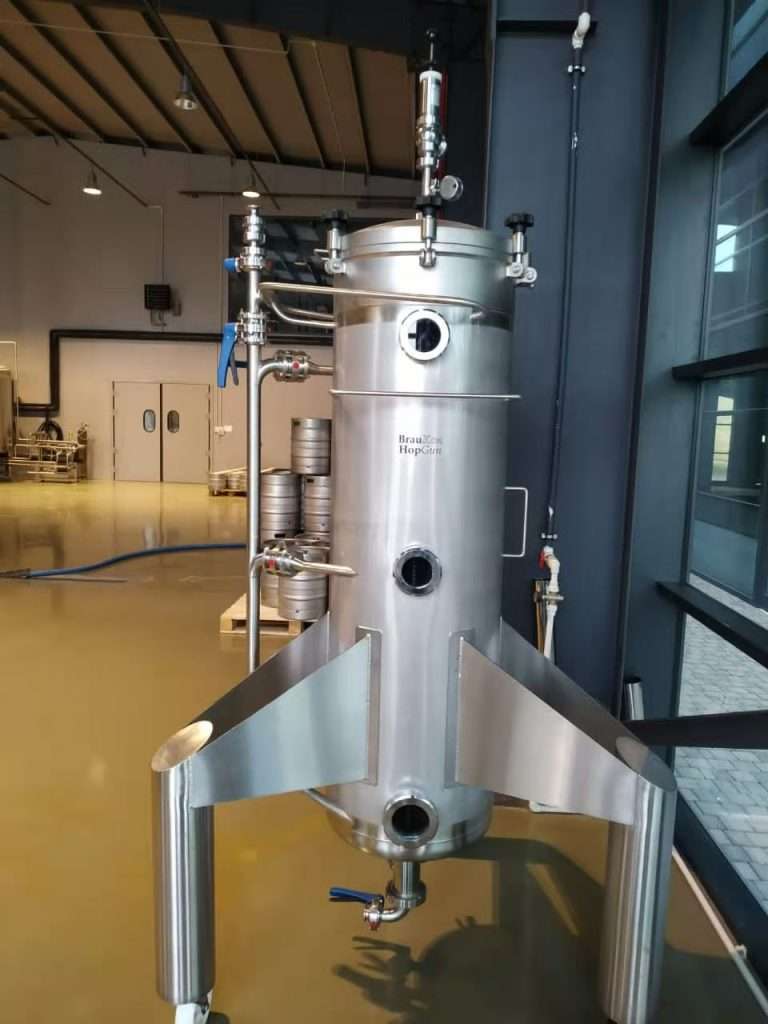 In a DE filter the candle(s) are for the DE to settle on, plus capture the yeast and sediment from the beer when travelling via the filter to the bright beer tank.
So, the process is quite different. However, I will try to answer your questions in a way that'll help give some information about potential hop cannon issues.
1. Do you measure your outlet pressure to ascertain when the filter is being blocked, if you have to?
Well you still have to check the pressure of the hop cannon through the run. There is a pressure gauge on all hop cannons. They measure the internal pressure of the hop cannon.
Anytime, your ferment beer you will get CO2. So, when you run the hop cannon, you get some CO2 breakout.
Plus, as your running the beer through hop cannon, there may be some build up on the candle from yeast/sediment. Which is one of the main hop cannon issues to look out for.
Yes, this is similar to a DE filter, pressure builds when the candle is blocked. So, you keep an eye on it.
Before you use a hop cannon, best practice is to have evacuated yeast and sediment beforehand.
Also, you want a lot of turbulence, so, with a well-designed hop cannon and good practices, build up should not be an issue.
Most hop cannons have a pressure relief valve. So, if pressure goes too high (30+ PSI) it will open the pressure relief, spraying beer everywhere…not good Victor!
That's why you need someone supervising the cannon at all times (in and around the cellar during the run).
2. How often do you need to stop, if you have to, clear the filter during a run?
If you've evacuated the tank of sediment before running the cannon plus followed proper procedure you'll never need to stop during a run.
If need to, and it does get blocked. You need to stop the cannon, clean it, sterilize and CO2 purge it again, So, it's in your best interests to do it right first time. Otherwise you waste hops!
3. In a DE filter, high dP indicates filter clogging? How do ascertain this in this case?
In case some people don't understand what dP means…
dP stands for differential pressure (well I think this is what you mean!).
Well Victor, the two points where you read pressure when using the hop cannon; is pressure in the tank and cannon.
If the pressure in the cannon rises significantly; while the tank pressure remains fairly constant. It would mean yes, you've a blockage. You would have to stop, clean down and start again.
If this were to happen (not happened to me yet). I would probably wait a few days for sediment and yeast to settle out. I would evacuate every day for a few days before starting a new run.
4. Is the filter removable for cleaning/replacement, etc.?
Please note that all parts can be broken down and cleaned. It helps to have a power washer, as it makes cleaning the candle easier. It's a question of cleaning out all sediment and hop material left in the cannon and on the candle.
Once the hop cannon has been sprayed down and sediment taken out; you can put the cannon back together and use your regular CIP protocols.
Please check after CIP, that there no hop residue left on the candle. You don't need any extra equipment to run it, just the hops and CO2 to purge.
5. What is the highest-lowest-average beer losses in a typical run?
It's lower than typical dry-hopping methods, which if I remember correctly is about 7+ litres per Kg of hop pellets.
Although, this is anecdotal and I don't have literature to back this up (note to self, research this). I'll get back to you later with a more complete answer.
6. Can the beer from the beer-hop mixture between the bottom of filtering surface and dump valve be recovered and how do you separate them? To reduced losses.
When the run is finished. You push back the beer, which is in the hop cannon via the candle to the tank using CO2. Some of the beer is absorbed by the hop pellets and lost.
If you've a well-designed hop cannon and candle; plus, you've evacuated properly, then it should not be too difficult to push the beer back with minimal losses.
If there's an issue, you can in most instances push some CO2 back the opposite way to unblock the candle and then resume pushing the rest of the beer back to the tank.
It's hard to explain in words. If anyone wants to follow-up on this, contact me directly please.
Conclusions – Hop Cannon Issues
Victor, you were right; it was a lot to answer, however I am glad you asked. I say, to a lot of people I train. There are no stupid questions. If you've a question, the chances are someone else will.
Hence why I decided to answer your questions in a follow-up article. I hope, I've filled in a few blanks in for you Victor, and also helped some other people along the way.
Throughout this article, I've sprinkled in some hop cannon pictures. These pictures were taken by Ardo. Ardo is a brewer at Dagrett in Armenia (where I used to work). Thanks, Ardo…I miss you buddy.
The pictures are of the Braukon Hop Rocket, the first of its kind that spawned many designs that are now available worldwide.
If you'd like to source a hop canon from China, I can assist if needed. I helped a client recently purchase a hop cannon in China and then trained the team how to use it.
It compares favourably the Braukon, but for a much cheaper price. My email is:
Anyway, thanks for reading my article and hope it was useful too you. If you've any follow-up questions or want to contact me just send me an email or comment below.
Thanks again and happy brewing.
Cheers
Neil