I wanted to write a quick article about "brewery tri-clamp spare parts", because their value to a brewer, is often over-looked.
Whenever I'm working on a new brewery project, I always have a list of tri-clamp parts at the bottom of the equipment list. As over the years, I've come to realize how helpful they are.
Depending on the size of the brewhouse, the list of parts can look something like this:
For most breweries the size of the hard piping and the tri-clamps are 1.5-inches. In my experience this is the standard in the craft brewing industry.
In some small brewhouses (under 150-liters), I do see, 1-inch pipework and fittings. However, this is very rare.
I think the best idea is to look at all the parts listed in the above, one-by-one.
Brewery Tri-Clamp Spare Parts: 1.5-inch Right Angle (Also Called an Elbow)
A very simple spare part, which comes in handy in various scenarios. One of the first right angles you'll use, is to put one on a CIP/Transfer pump outlet in a new brewery
Connecting a brewery hose to the pump outlet, without an elbow connection; over time could damage the hoses. As the hose would crease or crack, as it naturally bends over.
If there's an elbow connected the pump outlet, this wouldn't be an issue. It's the same principle, for many beer transfer setups.
The addition of a right angle, allows a beer hose to be connected more easily, if the connection is facing the right way.
Brewery Tri-Clamp Spare Parts: Butterfly Valves
Butterfly valves are true workhorses in the brewery. They are handy in so many situations when a brewer is carrying out a one-off task.
Butterfly valves when used in a larger spare parts setup (we will show examples later), means you won't have to disconnect a hose, to make a new connection or drain out liquid/pressure.
Generally making the brewers life easier, but more importantly the brewery safer too.
1.5-inch T-Pieces
When I'm in a brewery cellar, I often put a T-piece of the pump outlet, rather than an elbow. Furthermore, there'll be two butterfly valves connected to the T-piece too.
It'll allow me switch between a fermentation vessel CIP (clean in place), and rinsing the tank with water, without having to disconnect anything.
Likewise adding a T-Piece to the bottom of a fermentation vessel (FV), with a butterfly connected too. Means you can choose drain liquid out of the tank, without disconnecting anything.
Brewery Tri-Clamp Spare Parts: 1.5-inch Sight Glass
When I transferring beer from one tank to another, I like to have at least two sight glasses in place. One will be connected behind a butterfly valve; on the tank I'm transferring from.
The other is connected before a butterfly valve, of the tank I'm transferring to. If I'm filtering beer, I'll have a sight glass just after the filter as well.
It allows me to know immediately if there is…
Any issues with beer turbidity
Know the speed of the transfer
See if there are any foaming issues
Know when the transfer is finished
Plus, a whole lot more. I use sight-glasses for many small tasks throughout the brewery. Being able to visually check what's happening, puts a brewer's mind at ease.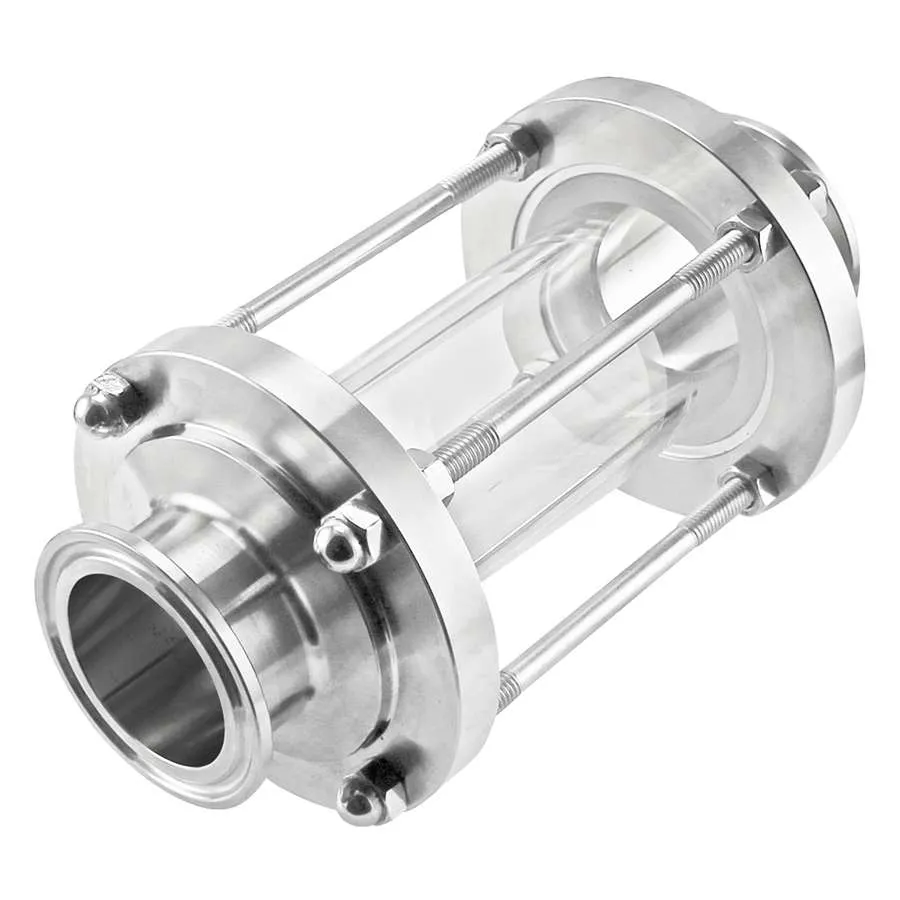 Brewery Tri-Clamp Spare Parts: 1.5-inch Tri-Clamps
Well, there's not too much to say with this one. The main point is you really can't have too many. The longer a brewery is open, the more you'll need. As you find temporary rigs slowly become permanent solutions.
I always order a lot of tri-clamps, when I'm planning out a new brewery project. As in a year most of them will be in use.
1.5-inch Tri-Clamp Gaskets
Even more than the tri-clamps themselves, over order these! They have a tendency to "go missing" and simply disappear into the ether.
They can break and split with time. Instead of taking a risk with a gasket you're not 100% sure about. It's best to replace it, a brewer has more important stuff to worry about.
Brewery Tri-Clamp Spare Parts: 1.5-inch End Caps
I use a lot of end caps as they help make a brewery more sanitary. The brewery I took over last year, had a lot of redundant butterfly valves, on different manifolds.
End caps are cheaper than butterfly valves. I took off the redundant butterfly valves and put end caps in their place. I now had more butterfly valves to use around the brewery.
Get Yourself a Peg Board
Getting a decent peg board, one made of stainless steel may seem like an unnecessary expense. However, it'll prove a sound investment for the future.
It'll get a lot of abuse, with anything not made of stainless steel, starting to show its age with time. Other metals will rust plus, it's much easier to keep stainless clean and sanitary.
The brewery I took over from was using a peg board made of some unknown metal. It was an eyesight of rust and flecked paint. Which just showed our brewery in a bad light when we were doing tours.
The day I replaced the previous peg board with a stainless steel one, was one the happiest days in a brewery, I've had in the last two years.
What Are These Parts Used For?
As I say they can be used to set up all sort of rigs. The diagram below is a very basic representation, of a setup I use a lot in my current brewery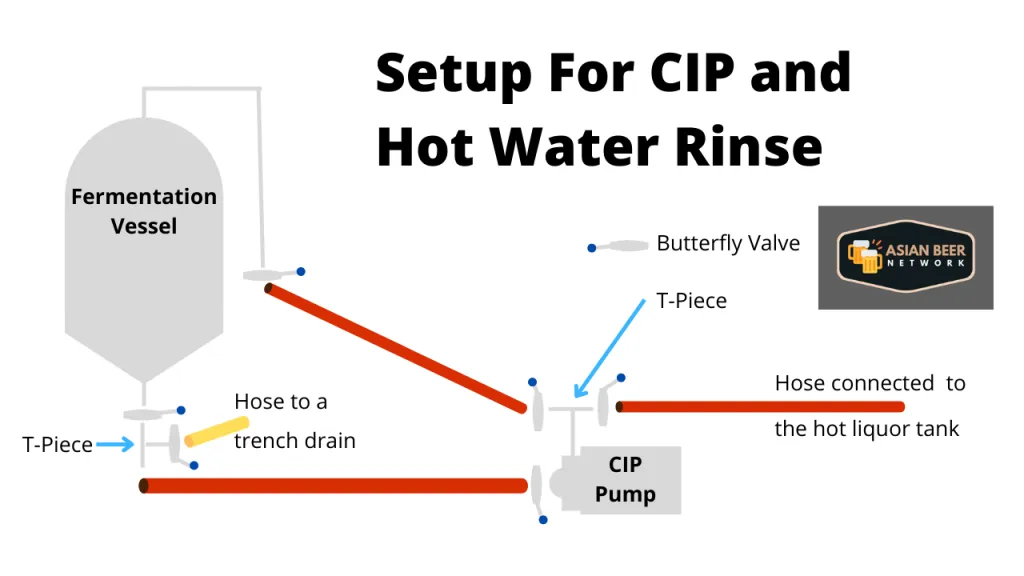 I don't have a CIP system, so I use hot water from the HLT (hot liquor tank). The setup below allows me…
To pre-heat the FV
Add hot water to the FV
The caustic is added through the manway
Complete a CIP
Drain dirty chemicals
Hot rinse the tank
All these actions can happen without disconnecting any hoses. I simply open or close particular butterfly valves, depending which step I'm on.
Adding Finings to a Pressurized Vessel
Please see the video below of the set-up I use for adding finings to a tank under pressure. This set-up is safe, and leads to minimal oxygen pickup too.
All fittings are properly sterilized before putting together.
I put together the rig in the above video:
All fittings are properly sterilized, before putting together. I then..
1. Purge with CO2
2. Add the finings
3. Pressurize the chamber higher than the pressure in the tank and keep the CO2 open.
4. Open the butterfly valve to the tank and blast in the finings.
5. Close all valves, then allow the chamber to de-pressure slowly and then take a apart.
6. I'll then recirculate the beer for around 20 minutes to thoroughly mix in the finings.
Small Brewery Carbonation
I helped a brewer in France who was having carbonation issues with his beer. He wrote me an email asking for assistance. If you follow the link, you'll see we spoke back and forth for a while.
We agreed upon a solution; where the brewer Norman ordered some off-the-shelf spare parts and was able to spund the beer in his FV's.
Thereby solving his carbonation issues. See the diagram below for the set-up we agreed upon.
Brewery Tri-Clamp Spare Parts – Conclusions
As you can see brewery tri-clamp spare parts, can be used by brewers for all manner of tasks. Having several extras, all stored on a peg board, allows a brewer to rig setups for all manner of tasks, easily.
It's why I always order these smaller parts, when planning a new brewery project. As I know at some point they'll come in handy.
They are inexpensive; but make a brewer's life so much easier, safer, as well as save on time and frustration to boot.
Need Help on A Brewing Project or With Brewery Processing?
My name is Neil, I'm a British brewer with over 25-years international brewing experience. I help people put together new brewery projects.
As an example, please follow this link, to read about a brewery shipping container project, I'm currently working on.
I'm also working on projects for Africa, UK and Australia as well. If you need help putting an equipment list together and sourcing it from a reputable supplier, I'm happy to assist.
Furthermore, like Norman in France, if you've some brewery processing issues you need help with, feel free to get in touch.
I've worked on brewpub systems, to being a craft beer specialist for AB InBev. I'm available to jump on call and chat about any project. My email address is:
neil@asianbeernetwork.com
Alternatively, you can message me on your preferred network. Simply scan the relevant QR code below, add me and message me there.
Thanks for reading, happy brewing and have a great day.