I'm currently in lockdown and so, had some time to reflect about "being a brewing consultant". I find myself in annual contemplation every year, when I renew services, I use for my website.
In the last month or so, I've also had people reach out to me looking for advice. Individuals looking to get into the "brewing consultant space" too.
I've helped a few people, since I transitioned to consulting. This felt different, as one person in particular, was someone who I've a lot of respect for.
So, was surprised they asked for my advice. Made me think, I must be doing something right. I thought why not share some of the things I've learned along the way.
Why write this post? Well, if anyone is thinking about "being a brewing consultant", and does a Google search. Hopefully this article will pop up, with some of the advice shared, proving helpful.
Why Help Others?
One might think; Neil, why offer advice to "people who might become the competition". Well, one of the first things I've learnt, there's are a lot of people needing help.
There's room for more consultants. Plus, the niche I've chosen is pretty small and where I'm based affords me some advantages. If I can help others around the world, I'm happy to.
Furthermore, till now helping others has just increased my network. So, lesson one from me, is be open. As it will open doors and opportunities.
For example, I connected with a brewing consultant in Africa a while back. He was looking for some advice on a project.
We spoke a bit and, he was really grateful to chat. The discussions we had, helped him approach his client to get an expense paid trip to do exploratory work, on a rather large project.
Later, I was looking for some advice on sourcing mash filters for a small brewhouse project. This same African consultant, gave me the contact for a company who I'd not heard of before. It was the right bit of kit I was looking for, at the ideal price point
My belief as a brewing consultant is; be open, as working and assisting others in the field, brings real-world benefits. Plus, it's always nice to connect with fellow brewers.
Yes, there are some limits, but being overly protective, could negatively impact you and your business in the long run.
Being a Brewing Consultant – Diagrams/Photos Can Help
Brewing can be complicated, especially when it comes to equipment, layout and processes. When working on a brewing project, you often working with multiple people.
Plus, sometimes people working on the project don't speak the same first language or are in different locations.
Mocking up a diagram, may seem like a time-consuming task. However, there's a reason for the saying "a picture speaks a thousand words".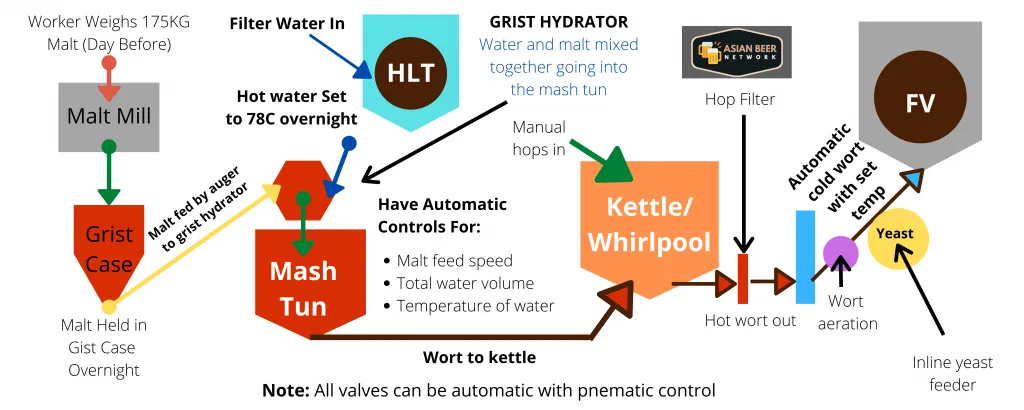 When I want to convey a message or get a point across, I often make diagrams in Canva (free accounts available) to communicate with people. It works particularly well in email exchanges.
Furthermore, I sometimes make quick drawings and take a photo, when I need to convey a message quickly. Sending the photo via apps like WhatsApp or WeChat. Likewise, when trying to explain a brewing process to a client. I often take short videos of how I do the task at my brewery, to send out. It's the quickest and easiest way for me to convey a process, which involves multiple steps.
Being a Brewing Consultant – Tables
Using excel, is similar to using photos, videos and diagrams. When consulting; effective communication is key.
I try hard to convey as much information as possible, in the shortest format, but make it easily accessible plus, simple to follow as possible.
One format which has worked well for me is to create Excel files, like the one below.
The above Excel file, is a real-world example, I used on a project. Created to share my thoughts on a 2-vessel brewhouse project, being put together.
We had an equipment list and were refining the system. In the file above, I listed every part from the equipment list separately.
Then wrote my thoughts and questions (to the fabricators), leaving a column free for the manufacturer to leave their notes, answers and feedback.
This file was sent to both the client and manufacturers, I found it's a format everyone is happy with plus, works to keep the project ticking over too.
Being a Brewing Consultant – Content is King
A consultant must stay relevant, keep themselves in people's thoughts. I've done my fair share of digital marketing over the years. I'm not expert, but better than many in the brewery consulting niche.
Where a lot of would-be digital marketers fail is, if a strategy doesn't work right away, they give up. It's a long game and to be honest, a lot of people don't have a stomach for it.
I don't even mind sharing this tip, as I know most can't keep up with posting content on a regular basis. I have a hard time myself; thinking of fresh content, as well as physically creating it.
Being a Brewing Consultant – Be Reachable
A consultant needs to be reachable, don't put any roadblocks in the way. This goes for clients trying to make first contact and for current clients.
To be contactable to potential clients, I've a website which I try to keep optimized. Plus, I keep populating it with fresh content.
The site makes it easy to contact me via email and the most used social networks for communication. I also post regularly to social media too.
As I'm based in China, I use both WeChat (for mainland China) and WhatsApp for overseas communication.
Attention to Detail
What I hope makes me stand out; when a client takes me on, is my attention to details. Most brewers by necessity, are sticklers for detail and recording notes.
As I've gained more clients, I've needed to find a system to keep track of everything. A brewery consultant attention to details will see them through.
I've noticed clients are impressed, with my ability to track the "little things". It also helped me form great relationships with manufacturers and contacts in the industry too.
Taking care of a client's specific needs so, a tailored service can be provided, will leave a lasting impression and word will spread.
Many "first contacts", I now receive are by word of mouth. It's actually a great feeling when you gain a new client, via a recommendation from a past project.
Taking On Clients – Being a Brewing Consultant
Again, I'd like to stress these are my opinions and personal findings. When I started, I just said yes to everything, except when I felt I wasn't the right person for the project.
It was hard work and some of those first clients weren't ideal. However, it brought money in and helped me refine my services plus, improve my communication skills too.
You also get a lot of "tire-kickers", people who dream of opening a brewery. However, don't have a means and/or skills to make a project reality.
Over time it becomes easier to quickly weed out such people. I hope I don't appear mean, but my time is precious.
Developing your own system, as I said before is all part of the process. Always remain polite plus, give such people a few take-aways,
However, politely declining a conversation/project, which isn't really going anywhere, is something all consultant learn to do.
Being A Brewing Consultant Conclusions
I hope this post "being a brewing consultant" offered some takeaways. This was a general overview, if you'd like to have to talk, feel free to message me, my email address is:
I'll happily have a chat and go into more details. The main points are, be a great communicator, keep good records and use aids (photos, videos, files and diagrams) to get your message across.
I'm always looking to refine my processes, as a brewing consultant. The other successful people in this field are also constantly evolving their procedures too.
It can be how a first contact is dealt with, or refining the process of keeping records. Always look to make marginal gains…and remember to keep in people's minds by staying relevant.