I'm laying our tour beer trend predictions for 2023. Looking to next year, and what might happen in brewing; it's a tradition I partake in every year.
1. Yeast were going to be huge – With new strains entering the market plus, people using more than one yeast strain in a batch
2. Classic beer styles would get some love – There would be some pushback on beers like milkshake IPAs, pastry stouts plus, putting random stuff in beer. With more drinkable classic styles making a comeback as a result.
3. More drinking local – As more small breweries open up catering to local drinkers. Taproom models make sense, keeping more profit in-house. Drinking at a neighborhood establishment or picking a 4-pack of a local brew, will be more common.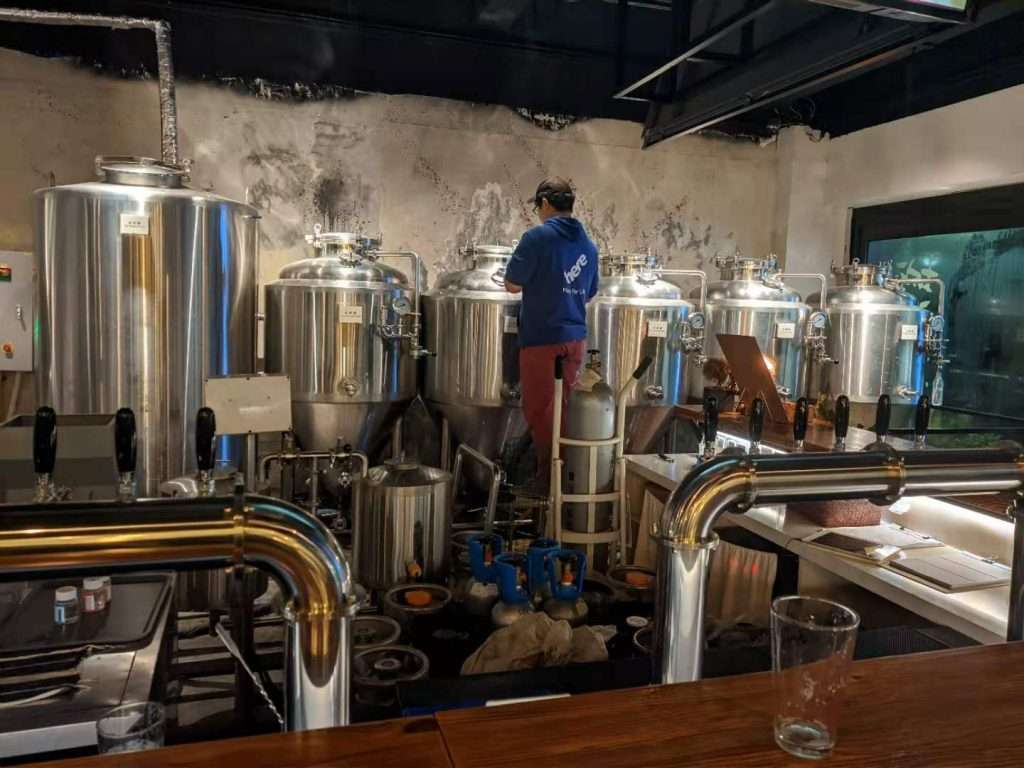 I Think I Did Okay
Well, I think I did pretty well. Omega Yeasts, is at the forefront with their GM yeasts (like Helio Glazer) pushing up those thiol levels. We're seeing breweries also co and sequential pitch different yeasts into beer.
More lager was brewed in 2021, compared to 2020, (which I also predicted the year before), as breweries had the tank space due to Covid. Classic styles are certainly being revived.
For a while in 2022, it seemed like half the breweries around the world, were looking to source "stange" glasses for their Kölsch brew.
I feel like more traditional beer styles were being brewed globally. As brewers explored classic beer styles, on the back of previous lager sales growth.
As for drinking more local…well, I've been stuck in China surviving lockdowns. I'm not sure, if I got this one right. What do you think?
So, let's get started with my first beer trend prediction for 2023…
Beer Trend Predictions for 2023 – Lower Alcohol Styles and Brews
Malt prices are going up and up. There are many reasons for this, with two being highlighted by brewers.
These are the war in Ukraine plus, global barley harvests taking a hit. Due to uncontrollable outside influences, such as climate issues.
See the images below where both UK and US brewers are discussing increased malt prices for 2023. In China, where I'm based, suppliers are predicting a 20% increase in malt prices, at least.
Now, the malt bill isn't the most expensive material when making beer. However, brewers will look to make savings where they can.
Milkshake, double IPAs (DIPAs) and pastry stouts will still be brewed. However, I think styles with lower ABV's may make a comeback.
Side note: I think people will look to add sugar to replace some of the malt, in bigger beers. In an effort to save money and improve efficiencies.
Moreover, why not read some of our "Commercial Brewing Cost Saving Tips" click here.
We will see more "session beers", "day time ales" and European pale lagers being made.
Kölsch Is A Style Here To Stay
Kölsch is a style here to stay, as for "happy hour", the standard stange glass used to serve Kölsch is 200ml. It makes the ideal happy hour beer, with servers going round with trays of Kölsch in stanges.
I see the brewing of English milds and bitters becoming a thing. Although, I envision British bitter recipes evolving from using standard UK hops typically, Golding, Target, Challenger and Northdown hop varieties.
There are some great new English hops to try. However, depending where in the world the brewery is. More local hops maybe used by a brewery, but still keeping to a standard bitter malt bill.
There are some great lower abv styles out there. My summer beer styles guide actually have several beers there, which use a smaller malt bill.
These beer styles are ideal for keeping malt costs down. However, still making tasty brews, to satisfy any craft beer lover.
Beer Trend Predictions for 2023 #2 – Non-Beer Drinks Made In-House from Scratch
This might not be possible for all brewers around the world, as local regulations may forbid this. However, I predict you'll see more local breweries branching out; offering other drinks rather than beer.
Many breweries are already making cider (often from apple concentrate), hard seltzers and hop water. I foresee many breweries getting more creative on drinks served, which offer a higher profit margin to boot.
Take my friend Nicholas who is the owner/brewer of Crafthead (Shenzhen, China). He's really pushing the offerings he has now.
Making kombucha and several RTD's (ready to drink cocktails). For instance, his gin and tonic are pretty much made from scratch, by Crafthead.
Producing the Component Parts
They make their own gin, using their own unique aromatic blend. Plus, they make their own tonic too. They fill their gin and tonic, into a one-way keg, to sell to bars and pubs. For these establishments to serve these RTD's on draft.
One of my favorite creations is their "Duck-Shit Tea" drink. Which Nicholas named Ducks Deluxe; it's "cold-pressed duck-shit tea with peach". It's super refreshing and utterly unique.
Ducks Deluxe is non-alcoholic too. So, ideal for the non-beer drinkers to quaff, whilst their craft beer companions drink beer.
What you'll see is breweries being innovative. Non-beer drinks can be cheaper to produce plus, appeal to a wider audience as well. It's a win-win for breweries.
Furthermore, these drinks scratch the itch for innovation for many brewers. These new drink offerings are often a challenge to put together, requiring several trials to dial in the recipe and process.
Beer Trend Predictions for 2023 #3 – South East (SE) Asia Brewing Is Going to Fly
Many mature beer markets are struggling. We've spoken about the UK, where it seems multiple breweries, are closing every week currently.
In China where I'm based, I've spoken to breweries who've seen year-on-years sales shrink by 50% since Covid.
Honestly for many breweries with the cost of production rising. Plus, people having less money in their pockets, doesn't bode well.
A Positive Outlook
Many brewers have gone into survival mode, hoping for better times. One place I'm seeing positive news is SE Asia.
In the last few months, I've seen the volume of enquiries about sourcing brewing equipment increase from SE Asia.
You're seeing places like Vietnam being invested in more. Companies are moving production out of China to SE Asia. Plus, many of these places like The Philippines are seeing tourist business pick-up, after Covid.
There's more money in the economy in many of these SE Asian countries, as a result.
Additionally, I'm working on a project for an equipment upgrade for Coron Brewery. They have seen an increase in tourists in the last three months and looking forward to getting their new brewhouse, pictured below in the next month.
This is a project I've been working on for the last four months. Since first being contacted by the Coron brewery. I've been speaking with other people in The Philippines, as well as Vietnam, Singapore about sourcing equipment. The omens really do seem positive for the region.
SEA Brew 2022
Plus, I've a buddy looking to open a brewpub in Thailand. Speaking with brewing equipment manufacturers, it seems there's a lot of projects planned for SE Asia, as we move in to 2023.
I couldn't go myself, but the recent SEA Bew Event (October 2022) was a success with many people outside the region going to the event in Bangkok.
The consensus is SE Asia is going to see their craft market fly in 2023; with breweries planned plus, the area truly opening up again to tourism.
Beer Trend Predictions for 2023 Conclusions
These are my beer trend predictions for 2023, based on what I've observed and people I've spoken to. What are your beer predictions for 2023? Please comment and share below. I'd love to hear people's thoughts and reasons why.
This year (2022) has been a good one for me. As I've been involved in several brewery projects, which has allowed me to expand my industry network, connecting with beer people around the world.
One of the reasons I'm still involved in brewing (after 25-years) is meeting great people and discussing beer. I'm looking forward to what 2023 brings. Plus helping more people bring their brewery projects to reality.
Furthermore, if you would like help with a brewing project. Please use this document; where I ask 13-questions about the scope of your planned project.
Just answer what you can, and then send the answers to me via email at:
neil@asianbeernetwork.com
Simply answer what questions you can, any information shared, will help me understand the scope of the project.
You can also message me directly, using your preferred network. You scan the relevant QR code below, add me, then send me a message directly.
Thanks for reading and remember, please share your beer predictions for 2023, by commenting below.