I wanted to put something together about Chinese brewing equipment prices. Believing it useful to those who visit my site.
People around the world approach me. Asking for help sourcing equipment from China. This week, I've spoken to people from:
Peru, Bulgaria & South Africa – full turkey brewing projects
Australia / Netherlands – pasteurization tunnels
England – unitank and hop back
US – Cellar tanks
I'm getting more enquiries every week.
Why Source Brewing Equipment from China?
The main reason is PRICE. Chinese equipment is cheaper than from other countries producing brewhouses. With quality continually improving as well. The Australian craft brewing sector in particular looks to China.
About 6 weeks ago I introduced an Ozzy client to manufacturer here. I'm a British brewer based in China. Just this week an agreement was reached. With an order placed for a 1,000-liter brewhouse and additional equipment. It was a nice thank you email to receive.
It's a virtuous circle, as more breweries have positive buying experiences from China, others follow.
Why Are Chinese Brewing Equipment Prices Lower?
There are several reasons for this including:
Nickel Prices
Nickel is crucial in making stainless steel. Indonesia has the largest nickel reserves in the world. In 2019, Indonesia banned the export of raw nickel ore. Chinese firms like Tsingshan who operate their own stainless-steel plants in Indonesia. So, weren't affected by this ban and kept prices lower.
State-Owned Enterprises (SOE)
Many companies producing the raw materials used to make brewing equipment are state owned. It's explained here, but simply put…
If a Canadian steel manufacturer pays his worker say $75,000 per year. Perhaps $35,000 of that goes towards government taxes. In China and with their SOE's they're paying the worker $40,000 per year. Well it's less $40,000 in actuality. Plus the government collects the taxes anyway, from the worker.
The true cost of human labour is cheaper.
Joined Up Thinking
Three factors make Chinese output so effective. Huge population, production efficiency & intensity and vast capital reserves.  This is supplemented by government projects and reforms. Which further make Chinese exports competitive.
Is Chinese Brewing Equipment Any Good?
Did you know many "overseas equipment manufactures" have their equipment fabricated in China?
The likes of SSV Limited (UK), DME (have a plant in Canada and China) as well as several US manufactures like SS Brewtech have their equipment made in China. Only adding some finishing touches themselves, before sending it to the customer.
This has allowed local Chinese manufacturers to learn a lot from their partners. Especially, when it comes to design and understanding brewing systems. It's now possible to get great equipment direct from China. Cutting out the middleman.
Chinese Brewing Equipment Prices
So, with that in mind. I wanted to share some pricing you can expect when ordering from China. Please note the prices shared below are for basic equipment. With prices rising as the equipment becomes more automated.
There exist equipment manufacturers of varying prices dependent on build quality and client needs. It's possible to get equipment below the prices listed here. However, they are from manufactures I wouldn't recommend.
Brewhouses Pricing
Please see the table below for some sample pricing for different brewhouse size setups:
You might notice as the size increases the price jump isn't logarithmic. Meaning a 1,000-liter brewhouse isn't twice the price of a 500-liter system.
When fabricating a larger brewhouse the work needed is similar to a smaller one. You're paying for the extra raw materials plus larger auxiliary equipment (like pumps) to run it.
Pease note: Prices are examples from real world quotes I got for previous clients. Pricing between manufactures varies due to quality, layout and many other factors.
Fermentation Vessels/Unitanks
Please see the table below for some sample pricing for different tanks. Unitanks have a carbonation stone whilst an FV doesn't.
It's the same as with brewhouses. Twice the size doesn't mean twice the price. Please see our post about tank choice and pricing.
Chinese Brewing Equipment Prices – CIP Unit
Please the table below for some sample pricing for different CIP unit setups:
Chinese Brewing Equipment Prices – Keg Washer
Please see the price of the main two keg washers I recommend to clients:
The difference in price isn't much. The reason people opt for the smaller one is space. If you're in a brewpub you might need the extra room.
Pasteurization Tunnels
Please see the prices I sourced this week for two different clients seeking pasteurization tunnels:
The supplier has many international clients in Europe and as far afield as Mexico. I can get quotes depending on your exact needs (units per hour).
Chinese Brewing Equipment Prices – Conclusions
It's Chinese brewing equipment prices which attracts breweries to source equipment here. Chinese pricing is competitive due to several factors. They are stainless-steel manufacture (Indonesian nickel ban), state owned enterprises and economies of scale.
However, as word spreads, people realize lower pricing doesn't mean compromise on quality. Yes, there are some bad manufacturers out there. But, if you do your research a good deal can be had.
If you would like some help gaining quotes from China for brewing equipment. I can help. My name is Neil and I'm a British brewer based in China (first came in 2010). I've been brewing for a number of years, on many systems in several different countries.
It's fair to say I know my way around a brewery. Here's my resume if you'd like to see my past brewing career. I now work as a brewing consultant in China helping people with their brewing projects.
Please see my introduction presentation below. It's about who I am and how I can help you:
Would you like some help? Then please feel free to send me an email at:
Or you can add me to your preferred network by scanning the relevant QR code below: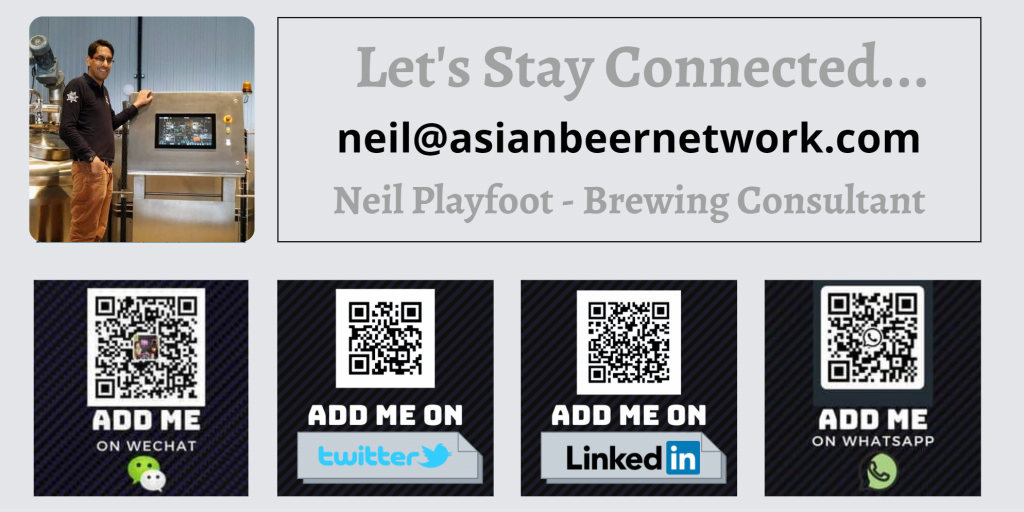 Have a great day and happy brewing!
Cheers
Neil