I've started to get more enquiries regarding sourcing pasteurization tunnels from China for beer packaging lines. They've been from breweries looking to save some money on equipment which can be a huge capital investment.
I've worked on pasteurization tunnels before when brewing in China and they work. China is a huge country and shipping isn't always the best. Your beer can see rather large temperature fluctuations from brewery to end customer. Pasteurizing the beer increases shelf life.
Now with many craft breweries going international and/or using fruit purees in their beer. The need for a pasteurization tunnel is becoming more crucial, to have shelf stable beer go to market.
Why Pasteurize Beer?
When you pasteurize beer, you're heat treating it to inhibit growth of potential beer spoilage microorganism plus increase shelf life.
Named after acclaimed French scientist Louis Pasteur, a man who was able to prolong beer shelf life by holding it at 55°C–60°C (131°F–140°F) for a short period.
The original experiments were based of empirical observations. Where holding beer at 60°C (140°F) for a few minutes considered ample time to maintain microbiological integrity for several months.
The brewing industry uses the temperature of 60°C (140°F) as a basis for computing the degree of the pasteurization process. For every minute the beer is held at 60°C (140°F), it said to be subject to one pasteurization unit (PU). Thus, holding the beer at 60°C (140°F) for 15 minutes would be 15 PU's of treatment.
Pasteurization Tunnels from China for Beer – Pricing
After having several enquiries about tunnels made in China. I wanted to share some information here for those who might be interested themselves. Here are my findings:
9-Meter tunnel
Which can do 2,000 cans per hour
Dimensions:(L×W×H):9000×1350×1850mm
Price is: USD 32,500
6-Meter Tunnel
Which can do 500 cans per hour
Dimesons are: 6*1.1*1.65m
Price is: USD 26,000
The number of pasteurization units are 15 to 20 for these tunnels. As I say the brewers who I've passed the information on to have been pleasantly surprised by the pricing.
Pasteurization Tunnels from China for Beer – Conclusions
If you want additional information, I've put together a file for you to download. It contains information such as materials used for the tunnels and pasteurization units added.
For the file, please click here (this is for the 6-meter tunnel).
If you want to get in touch with more for further information, then please email me at:
Or scan a QR code below to add me to your preferred network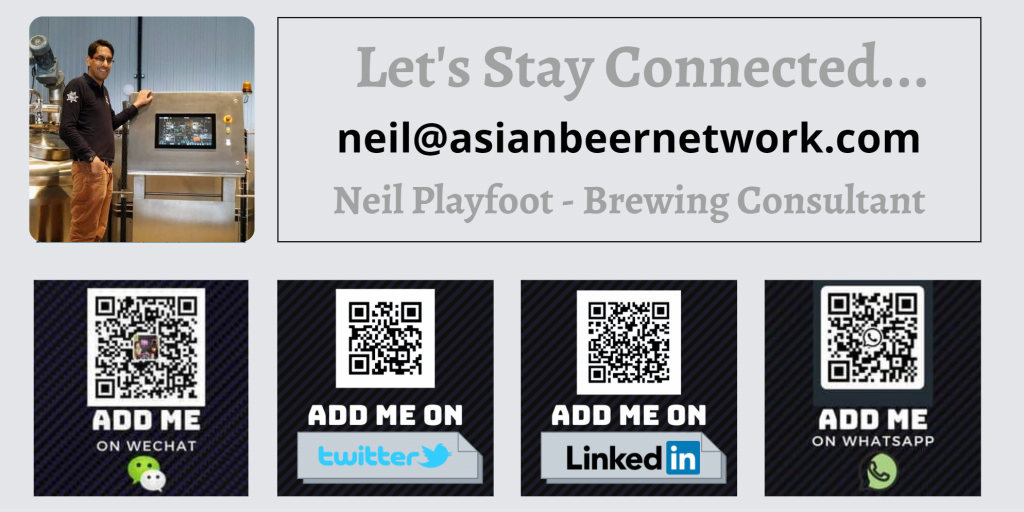 Thanks for reading and have a good day
Cheers
Neil