This week I had a client approach me regarding commercial small space brewing. They had an idea to put a brewery in a high-end shopping mall. The space would be tight as they wanted a 300-liter brewery in a 16 square meter space.
The actual space was 4 x 4 meters. Now, some of you might remember me speaking of a 200L brewery in a 12 sq. meter space in Shanghai before. A good friend of mine Raph at A Cote did a great job with his set up but he had fewer fermenters.
The client wanted a 300L brewery with five fermenters (FV's) in the brewing space. Now, as some of you know; you also need auxiliary equipment when setting up a brewery. Such as a hot water tank and a glycol system.
The glycol system is for regulating the temperature of the fermenters and cooling the wort from the kettle on the way fermenter (via the heat exchanger) too. So, how could we make this work?
Fitting a Brewery in A Small Space
When it comes to commercial small space brewing, ceiling height comes into play. If you're ceiling is high enough, then it's possible to "stack" fermentation tanks. Take a look at the picture below, it shows stacked fermenters.
When it comes to brewing in a tight space you need to think vertically. The client told me the ceiling height in the space was 3.8 meters. This is a good start, I knew stacked FV's were doable, even if they might be a little "fatter" to fit.
So, I asked my client, could I speak to one of my go to equipment manufacturers and get some feedback. He said, sure you can and thanks. I did…and here is what we came up with:
The picture on the left is two 300L fermenters on top of each other. The picture on the right is a 300L FV on top of a 300L brite tank (BBT). My thinking was, if the client wanted 5 stacked fermenters, why not make the 6th tank a BBT, we were working in multiple of two anyway.
There was good news…
Fitting these two tanks on top of each other, would come to a height of 3.4 meters. So, the client had room for 6 tanks. The tanks were going to be a little fatter, as I'd predicted, with an outside tank diameter of 910 millimeters. This is fine, being a tiny concession to fit the client's needs.
What About the Brewhouse?
Well, they have what is called "the German Brewhouse design" here in China. It's a 2 tank, 3-vessel brewhouse. There are two options:
Option 1 – Three tank for mashing/boiling, lauter and whirlpool
Option 2 – Three tanks for mash/lauter, HLT and kettle/whirlpool
In both options you can heat up the water the day before for brewing. As I've only come across this system in China; where mostly use option, one is used. I'll explain that one here.
So, you have your hot water, you'll put some in your mash/boiling vessel. You add your malt and mash in. There's a paddle in the bottom to aid mixing.
You can regulate the mash temperature and do a step mash, which is handy. Because, the tank is your brew kettle it has a jacket (if using steam).
Once you've done your mash stand you send it to the lauter tun; which is above your whirlpool. You then lauter, sending the wort back for boiling. Once the wort has boiled you send it to the whirlpool; to separate the spent hops and trub form the liquid. You then send the wort to the FV, via the heat exchanger to cool it.
It's really a 3-vessel system but takes up the space of two tanks. As the lauter is above the whirlpool. It works well for breweries with limited space like my client in his shopping mall. Your brewhouse can still be efficient, I've seen brewers hit 80% with this setup.
Commercial Small Space Brewing – Fitting It All In
So, the client, one of my go to equipment manufacturers and I, came up with a way to fit all the brewing equipment needed into the 4 x 4-meter space. As you can see in the picture below.
So, we have:
A 3-vessel 2 tanks brewhouse (300-liters)

5 x 300-liter FV's

1 x 300-liter BBT

Glycol system (with room for chiller – not in the picture)

Heat exchanger and pumps

Electric steam generator
There is still some room left, I think there's space for a simple single-head keg cleaner as well. However, we will discuss this later.
As we are still in the early stages of the project. We managed to figure this all out in a day with a quote being delivered to the client as well.
Client was super happy and had actionable content to work off. His idea, is to visit the site again this weekend with plans in hand. I'm really happy with how it all went.
Commercial Small Space Brewing – Conclusions
People come to me with their ideas and ask for advice. Some ideas are crazier than others. If I don't think something is possible or could be done better, I'll tell you.
I'm not a yes man, I'll try my best to accommodate you but, I want clients to have a working brewery, which fits their needs.
As you can see, commercial small space brewing is doable. We can fit a 300-liter system with cellar tanks and auxiliary equipment in a 16 square meter space. There tanks might be fatter but it works.
If you've an idea and would like advice on how to make it happen, then please get in touch. I'm a British brewing consultant who helps people realize their brewhouse projects.
Utilizing my 25-years of industry experience as a brewer. As well as being someone with numerous connections in the industry, who I've met over the years.
To get in touch you can email me at:
Or you can scan the QR code of your preferred network to contact me directly on those platforms instead.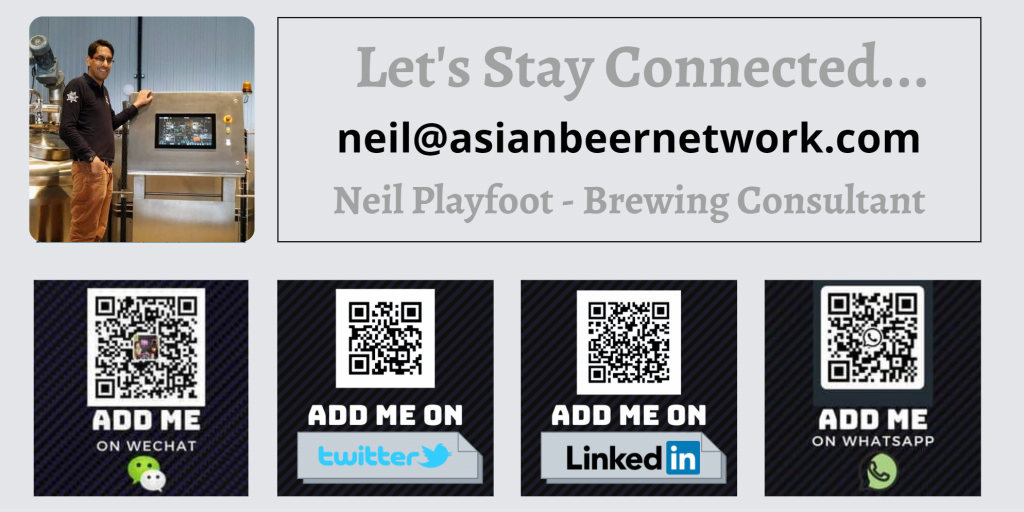 Thanks for your time, have a good day and happy brewing
Cheers
Neil
Here are some articles, which also worth reading too, when it comes to small breweries:
Small brewery equipment list – what equipment you need to start a small brewery.
Tips for running a small brewery – Here's some of the "hacks" I've picked up in 25-years as a commercial brewer.
Carbonating beer in small breweries – How you can spund you beer and save money on CO2.
Can running a small brewery be profitable? We look at some tips to running a hyperlocal brewery.
Small-scale canning lines – Ideal canning line for a small brewery.