I wanted to put out a post about Chinese brewing equipment group buying just to see if there's any interest from brewers. I have brewers approach me from around the world seeking Chinese brewing equipment.
I'm a brewer originally from England who now lives in China. After many years in the brewing trade, I took the leap to become a brewing consultant helping people source brewing equipment from China.
I mostly help with full turnkey solutions. So, people looking to get a complete package from brewhouse vessels, FV's, glycol and heating systems. However, more recently breweries are looking at single items.
Let me show you by example…
Case Study
I've a brewer in the UK looking to purchase a keg washer/filler, he asked me to look into pricing for him. Now, I've a go to manufacturer for items like this. They specialize in packing and cleaning lines.
==> Join Our Facebook Chinese Brewing Equipment Group Buying Group <==
A lot of the other Chinese brewhouse manufacturers buy from them on behalf of their clients for turnkey solutions. After showing the client several option and he chose one pictured below, which interested him most and asked me to get a quote.
The keg washer can run on steam or electric, washed 20-30 kegs an hour and can fill 40-60 kegs per hour. The machine takes kegs from 20 to 60L and can be fabricated to fit any type of spear. Now the price for this particular item is US$9,145 EXWS factory.
It's a competitive price and I know their equipment works because I've clients and friends using their equipment. The issue for a brewer in the UK is buying one items makes shipping expensive.
Right now, with Covid, shipping from China is more expensive than usual. The reason is a lot of ships are coming back empty after delivering elsewhere. A 20 ft. container from China to the UK is roughly US$5,000. Now you can get LCL (less than container load) shipping but it's also fairly expensive.
So, the $9,145 keg cleaner is more like a $14,145 item now so, less attractive. It's the same for another client of mine looking to buy one tank and a hop back. The price with shipping makes buying from China less attractive.
This got me thinking…
Chinese Brewing Equipment Group Buying
As I get more and more people looking to source small items from China. It would make sense if I had several people (say from the UK) all looking for similar items buy and ship together.
It'd allow people to share the cost of shipping and make those Chinese prices attractive once more. For example, if people were looking for one or two unitanks (DPV's) for their brewery. Depending on size you can get several in one container.
You can see the price of different size tanks in the table below. These are prices from several suppliers, they can be higher and lower depending on choice of manufacturer.
If there were several people looking to buy; I could aggregate orders and have them shipped at the same time to one country. The savings for each brewery on shipping could be significant.
The fact I'm based in China, it's something I could organize for brewers if they're interested. Furthermore, if enough tanks were ordered, a 40ft container could be organized which works out even cheaper.
It could be tanks, keg cleaners or canning lines basically anything which doesn't take up all the space of a container. It could even be several skid-mounted brewhouses on wheels, which I wrote about earlier this week and got a lot of attention.
Chinese Brewing Equipment Group Buying – Conclusions
I just wanted to put out a quick post and see if this caught the attention of any brewers. It could be brewers grouping together reaching out to me. However, if I get interest from several brewers in the same country seeking equipment, I can aggregate into a group order for shipment then I'd attempt to make that work too.
It was a thought I had after seeing several brewers put off by the cost of shipping a single item. If I can help them get the equipment they need whilst helping others too then everyone wins.
If you're interested then feel free to email me at:
Or you can scan the QR code below to add me to your preferred network and we can chat there. I've also set up a Facebook group called "Chinese Brewing Equipment Group Buying" as way for brewers to co-ordinate and see if people are purchasing similar equipment. Please click the link to join.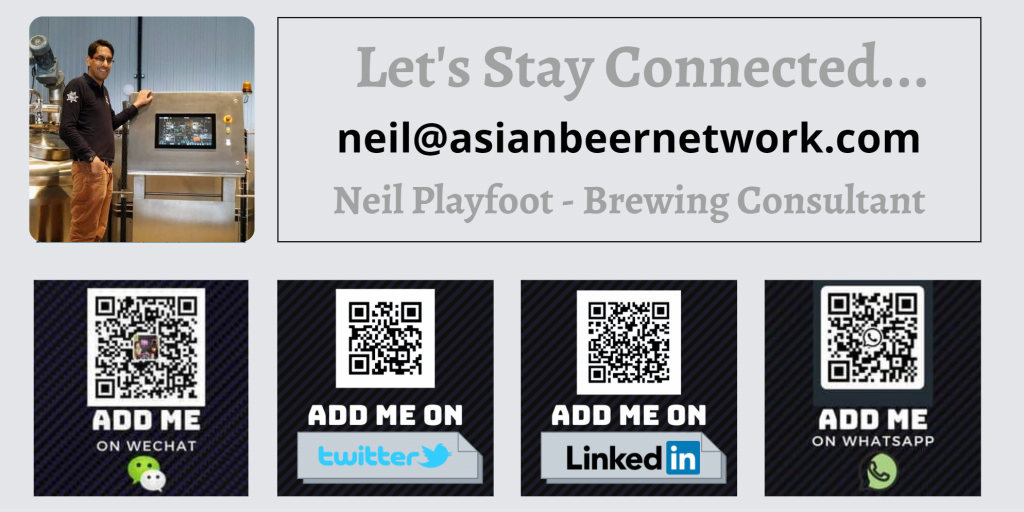 Thanks for reading and have a great day.
Cheers
Neil